2019-April-5th
We are proud to announce that Sigen A has successfully defended of his dissertation on 5th of April at Charles Institute of Dermatology UCD! Congratulations, Dr. Sigen A!
Sigen joined our group in Feb. 2015 and his research has been focused on modification of hyaluronic acid and fabrication of smart hydrogel for bio-applications. He has published several peer-reviewed papers in the past few years. After graduation, he will continue working with us as a post doc researcher from May. Congratulations again, Dr. Sigen A! We wish you all the best for your future endeavors.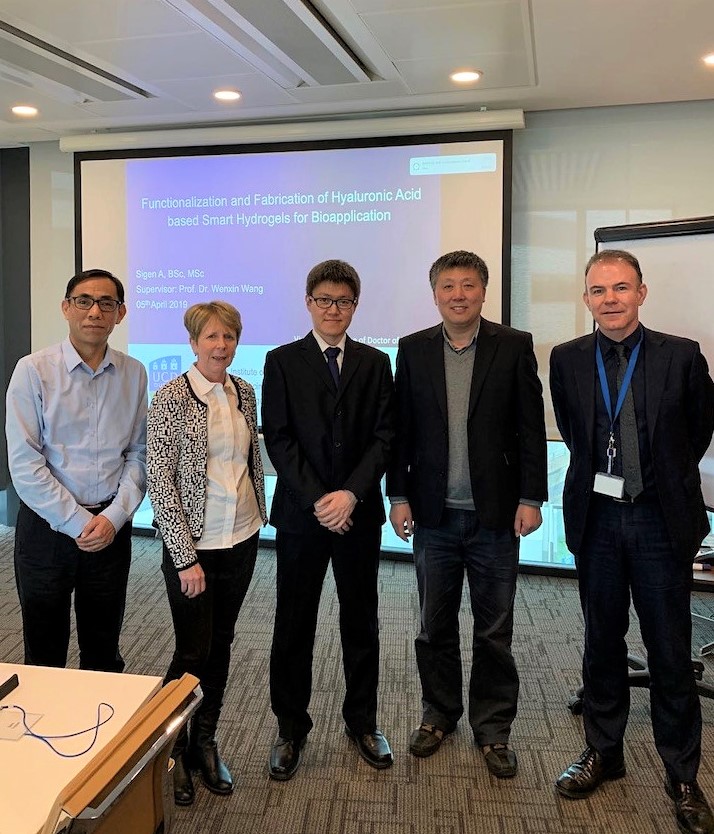 2019-March-27th
On 27th March 2019, our colleague Patrick Duffy successfully defended his PhD thesis at the UCD Charles Institute of Dermatology. Congratulations, Dr. Duffy!!
Patrick's research focused on the development of an environmentally-friendly approach to the synthesis of bioresorbable polymers and their application as enhanced biomaterials in an artificial peripheral nerve implant. Patrick completed an industry-based PhD as part of the Irish Research Council's postgraduate research programme. After graduation, he will take up a permanent-position with his employment partner Ashland Specialties Ireland as a staff scientist focused on the application of bioresorbable polymers in the medical device and drug delivery fields. We wish him good luck and continued success in his research career!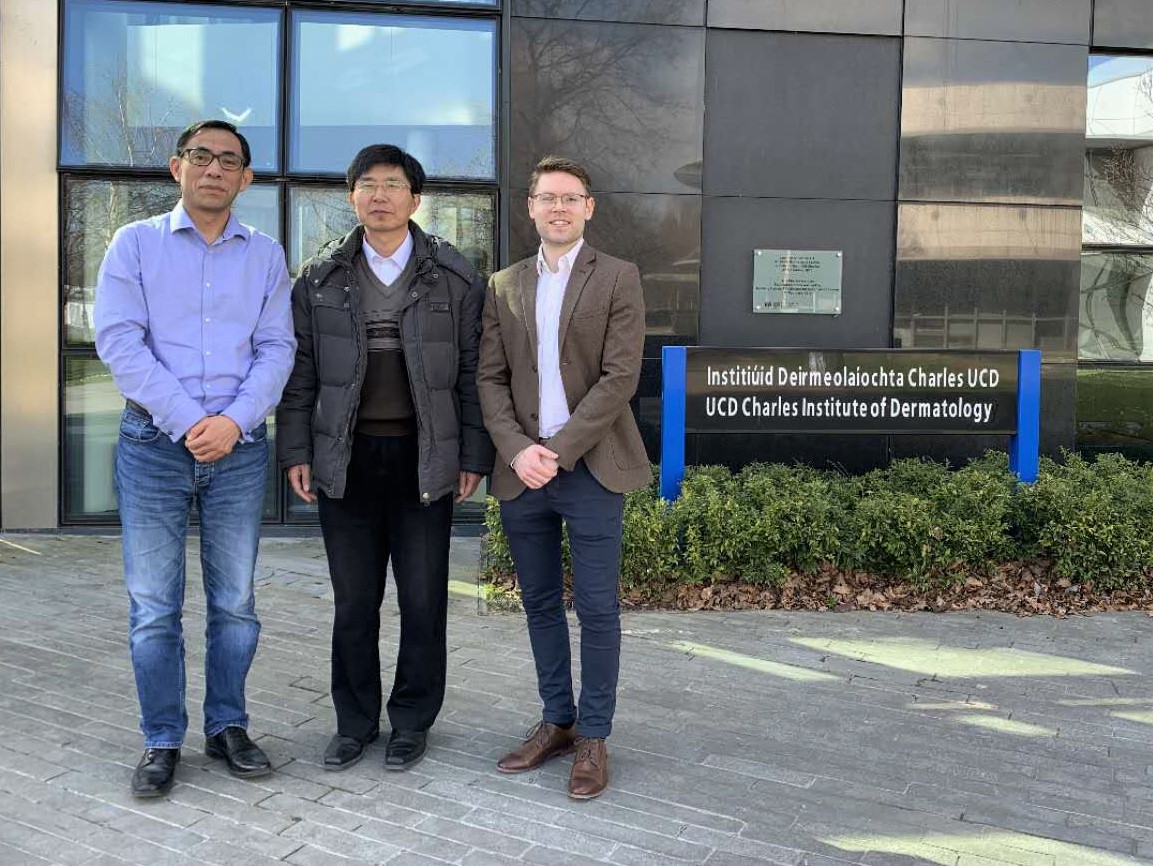 2019-March-20th
Congratulations to Qian Xu for successfully defending her PhD thesis at the UCD Charles Institute of Dermatology on 20th March!! Really well done, Dr. Xu!! Qian has been in our group for four years since January 2015 and her research mainly focused on the biomaterials design for the wound healing applications, especially on developing new biomaterials for stem cell delivery targeting diabetic wounds. She got excellent feedback from her examiners. Qian will be a postdoc in our group soon. We wish her all the best and good luck to her future!
2019-February-5th
Happy Chinese New Year to Everyone!
On 5th February - the first day of Chinese New Year, the whole Charles Institute staff and students celebrated this important event together in a Chinese restaurant and enjoyed the traditional Chinese food - Hot Pot. All the people was immersed in the festival atmosphere of Chinese New Year! This is a good opportunity for us to enhance the communciation and also promote cultural exchange. We're glad to appreciate everyone who participated in this event: Thanks for letting us felt like at home with our family!
May the coming New Year bring you and your family many good things and rich blessings!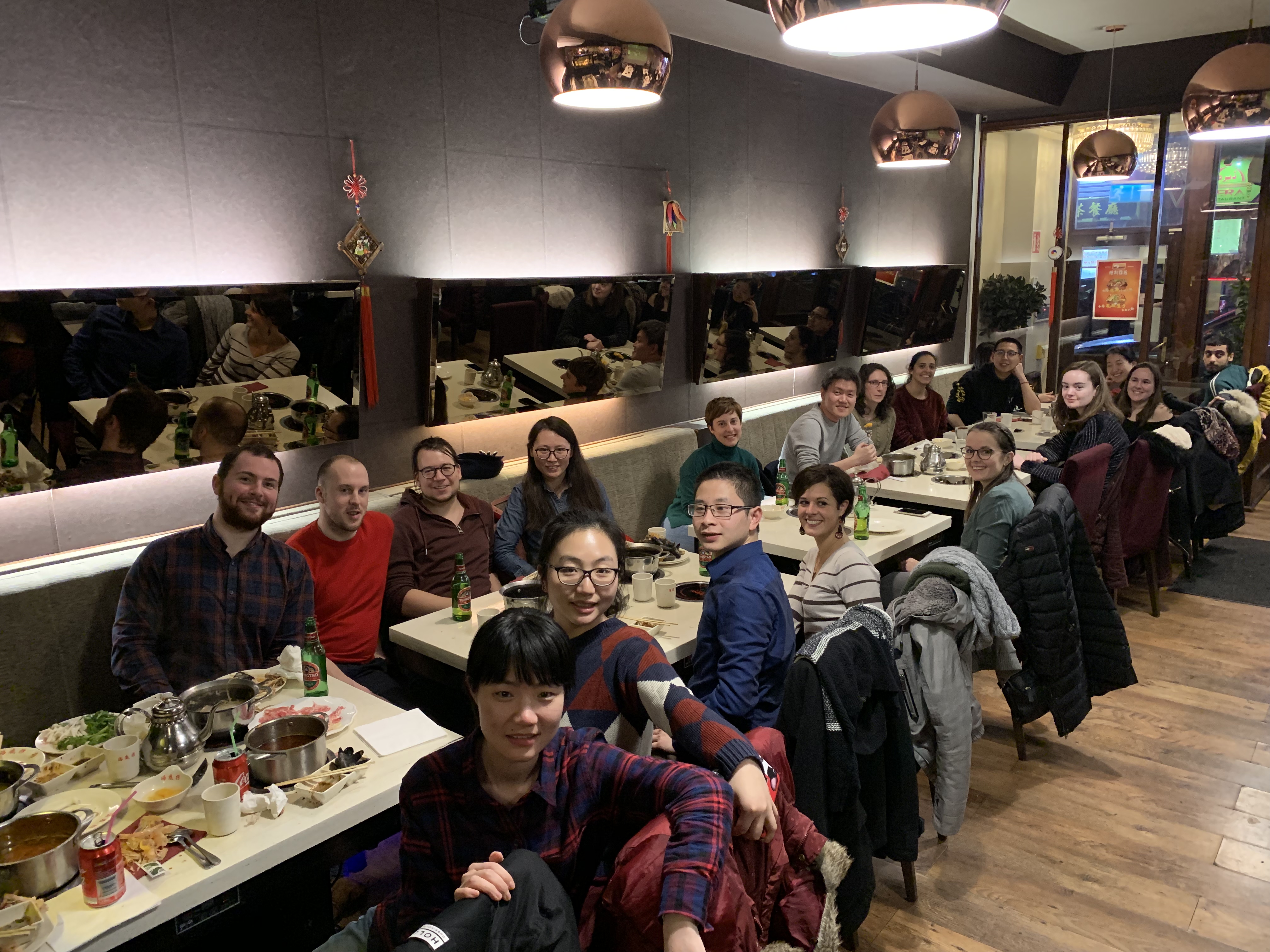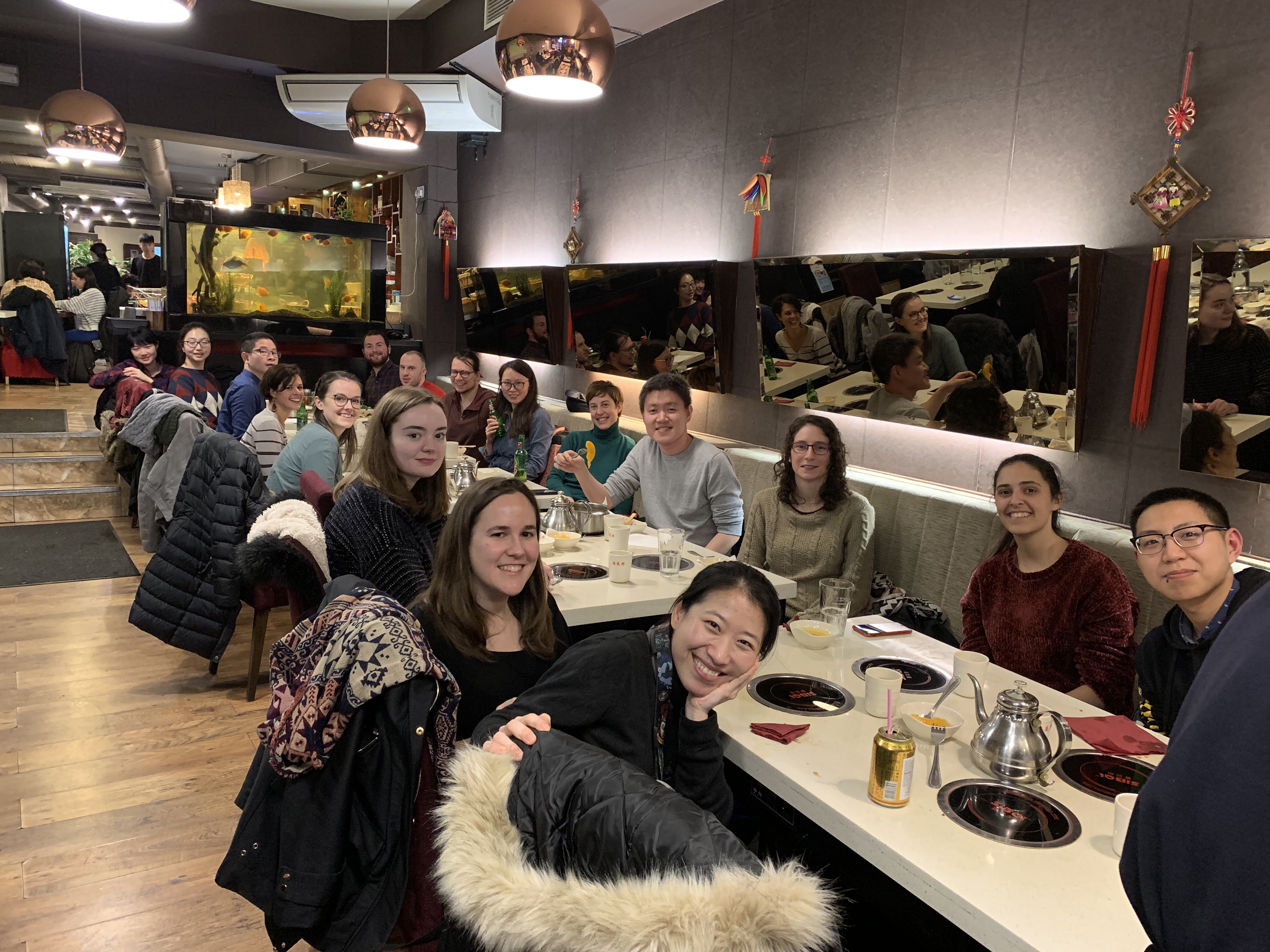 2018-December-12th
Taoiseach Leo Varadkar and Minister for Innovation Heather Humphreys unveiled the 27 projects to share the first tranche (€75 million) of the Disruptive Technologies Innovation Fund (DTIF) which is to help future-proof against job losses.
Professor Wenxin Wang, UCD School of Medicine and Charles Institute of Dermatology, associated with Amryt Pharma, Curran Scientific Ltd and DEBRA Ireland as the project consortium, received €8.4m from one of these 27 projects, which named "A Disruptive Gene Therapy Platform, Replacing Viruses in the Treatment of Genetic Conditions". This project aims to disrupt the Viral Gene Therapy Market using a new Polymer-based Delivery Platform in the treatment of genetic conditions, such as Epidermolysis Bullosa, or EB.
Congratulations to Prof. Wang and we hope this project will really help people in the future!
Please find the detailed news on The Irish Times and UCD Website.
2018-October-22nd
To support this year's EB awareness week, we organized a group photo with the white labcoats and DEBRA's butterfly tattoos to participate in the fundraising campaign. Furthermore, we are working on developing a new gene therapy method which will give new hope to people living with epidermolysis bullosa (EB). We hope more and more people can know this rare disease and participate in the charity donation.
Please find the interview of a 14 years old patient in the Independent here.
DEBRA Ireland: https://debraireland.org/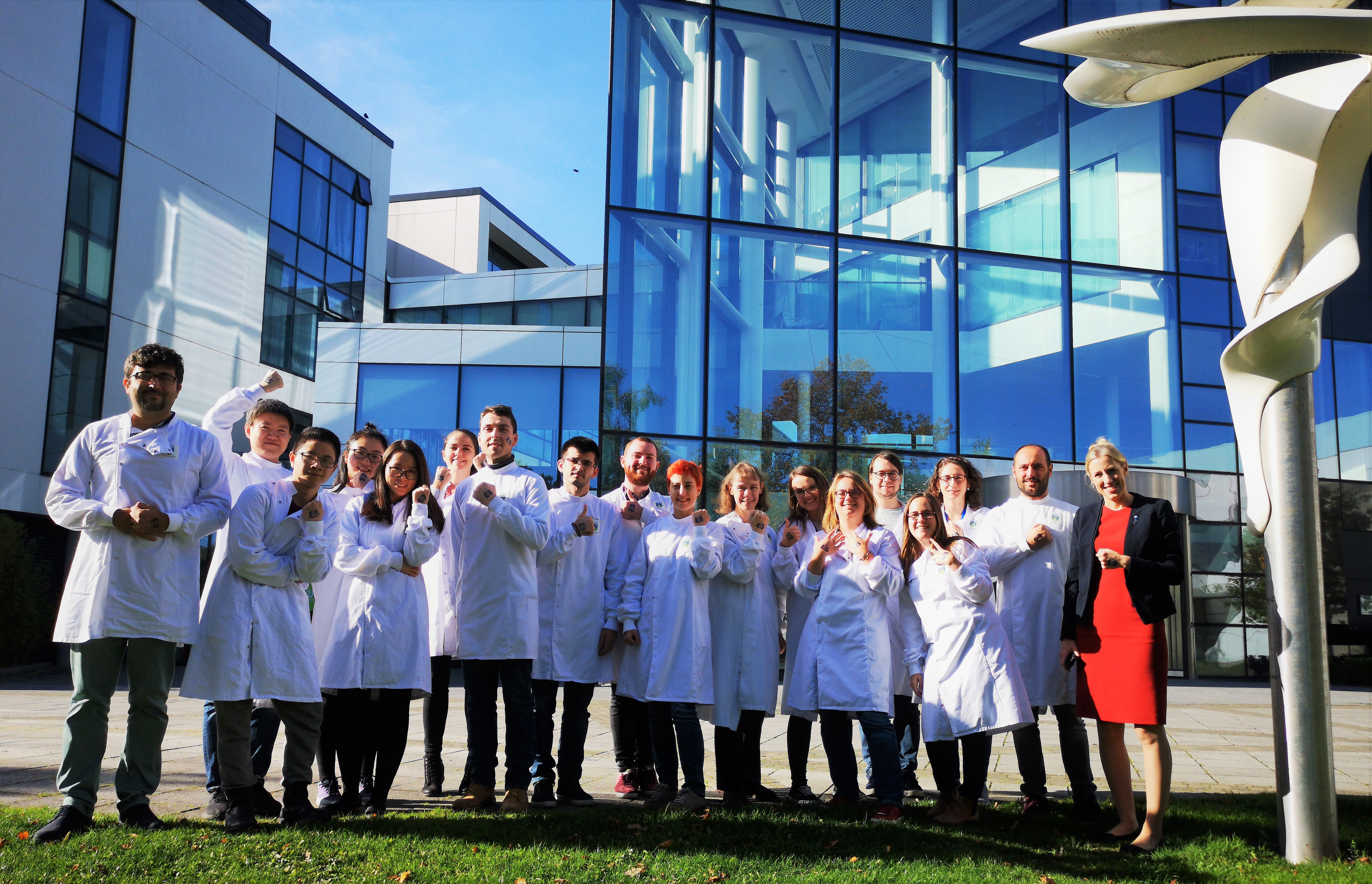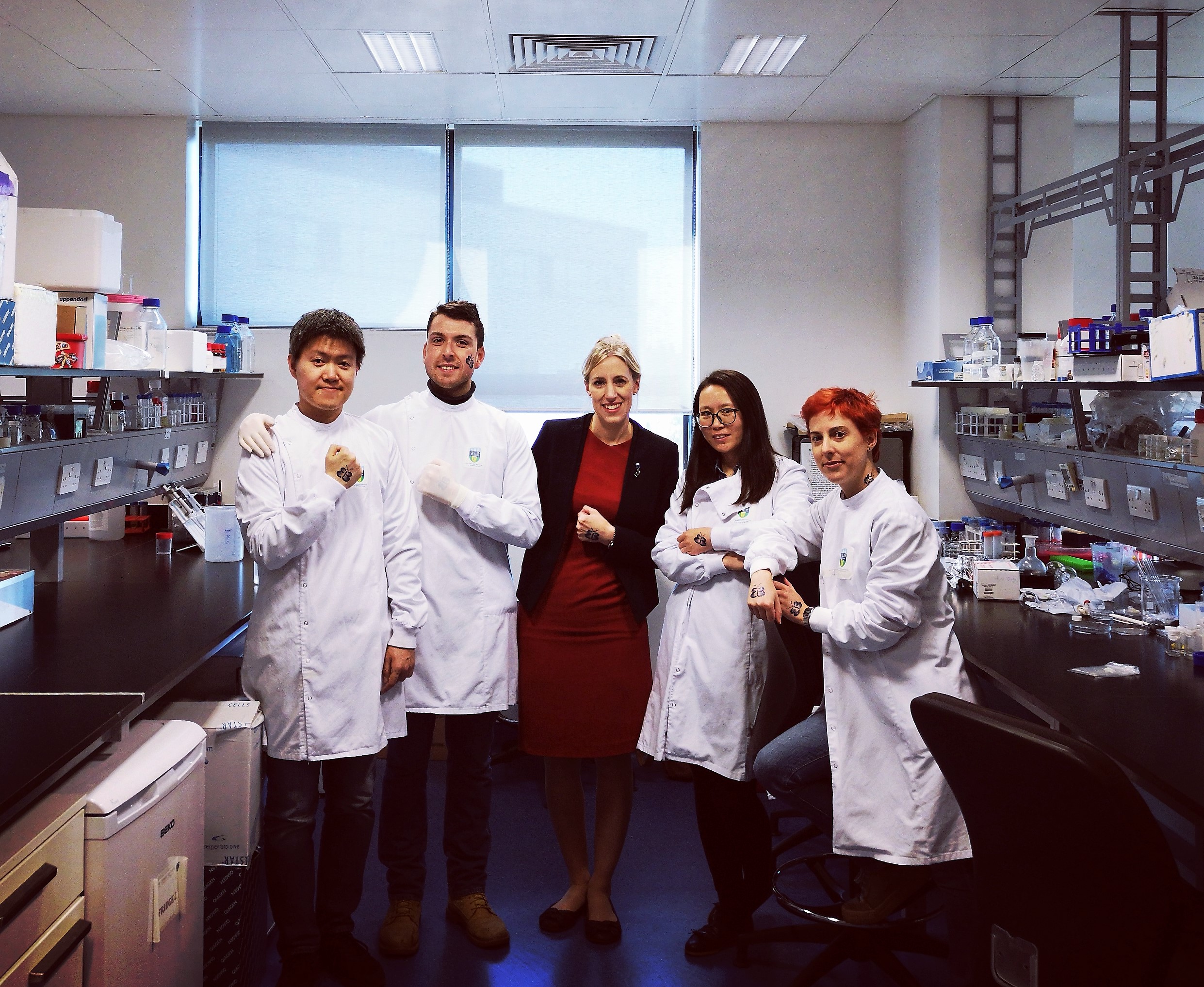 2018-August-28th
Our 2018 group day-out!
We were very happy to have a lovely day-out at the Leisureplex bowling. We got a competition and guess who is won? Everyone had fun and therefore we'd like to say thanks to Prof. Wang and the committee who organise this!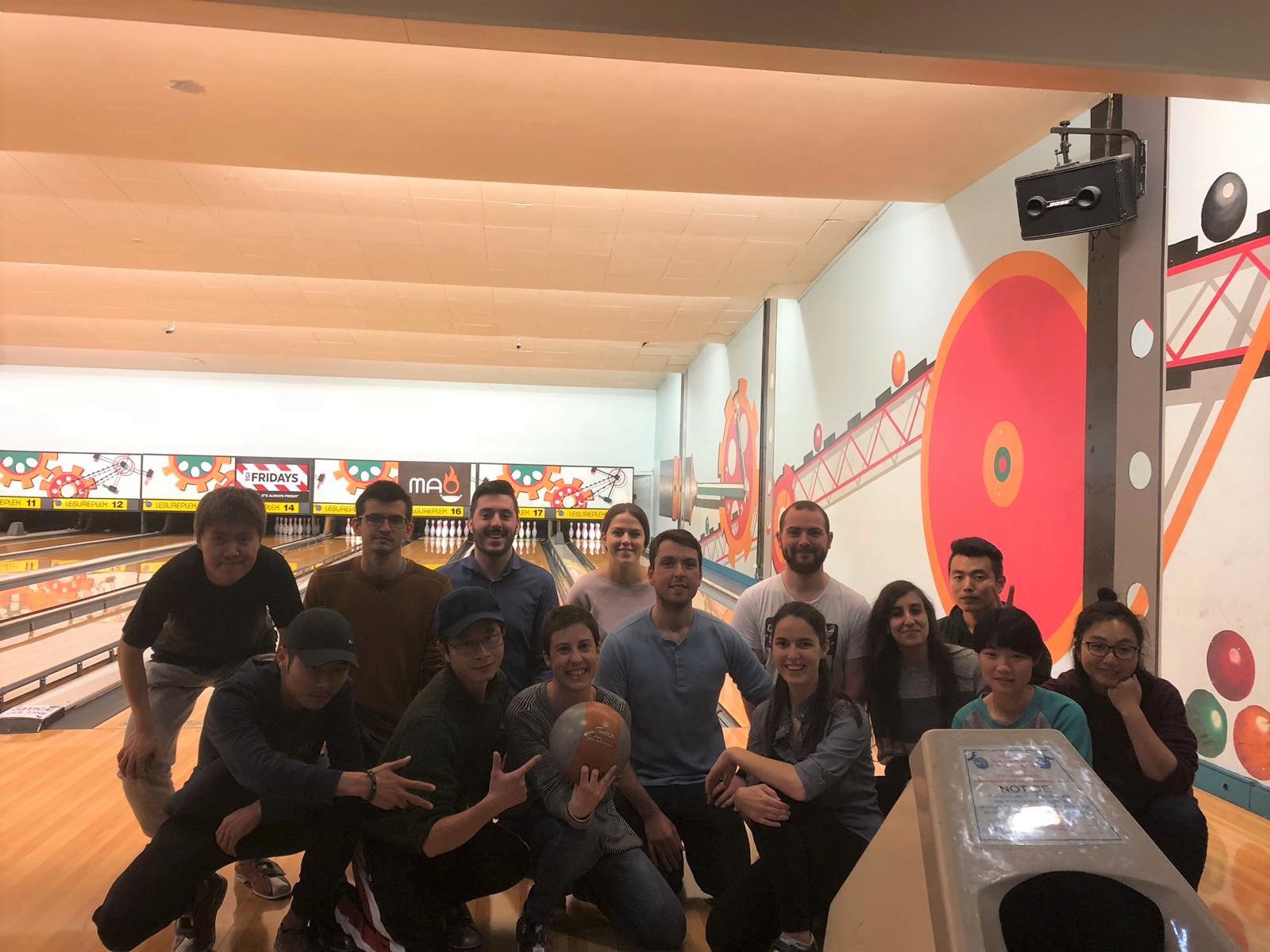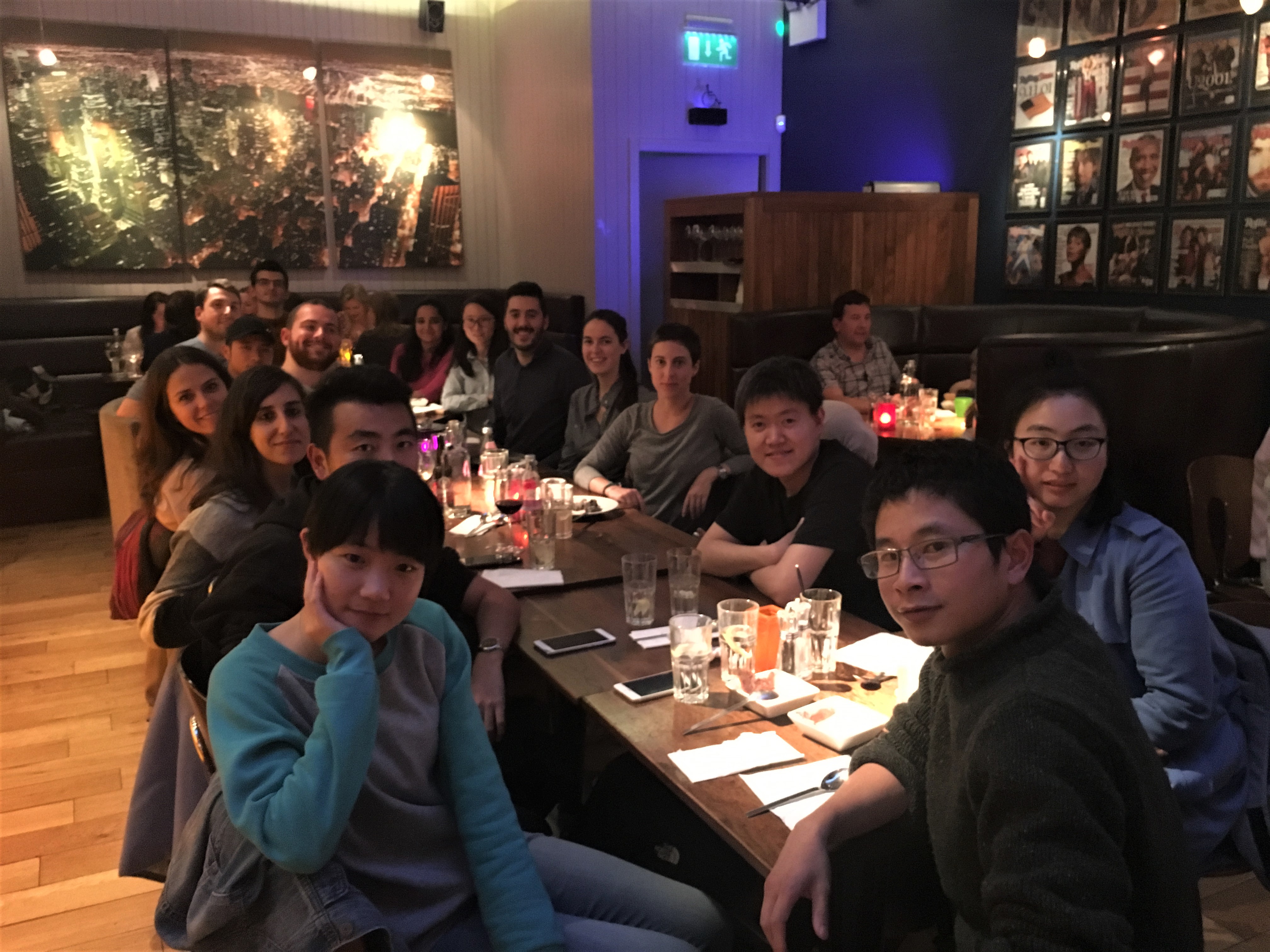 2018-July-11th
On Wednesday, July 11th 2018, Ligia Bré successfully defended her PhD thesis at the UCD Charles Institute of Dermatology. Congratulations, Dr. Ligia Bré!! Ligia's research focused on the development of a polymeric crosslinker to reduce the calcification of bioprosthetic heart valves. She was awarded an Employment-based Post graduate programme and developed her project work in collaboration with Boston Scientific Ltd. She has been the most senior student in this group working with us since January 2011 when she first visited during her Erasmus Programme. She had fantastic feedback from her examiners and will graduate at the end of this year. We wish her the best in her future career!!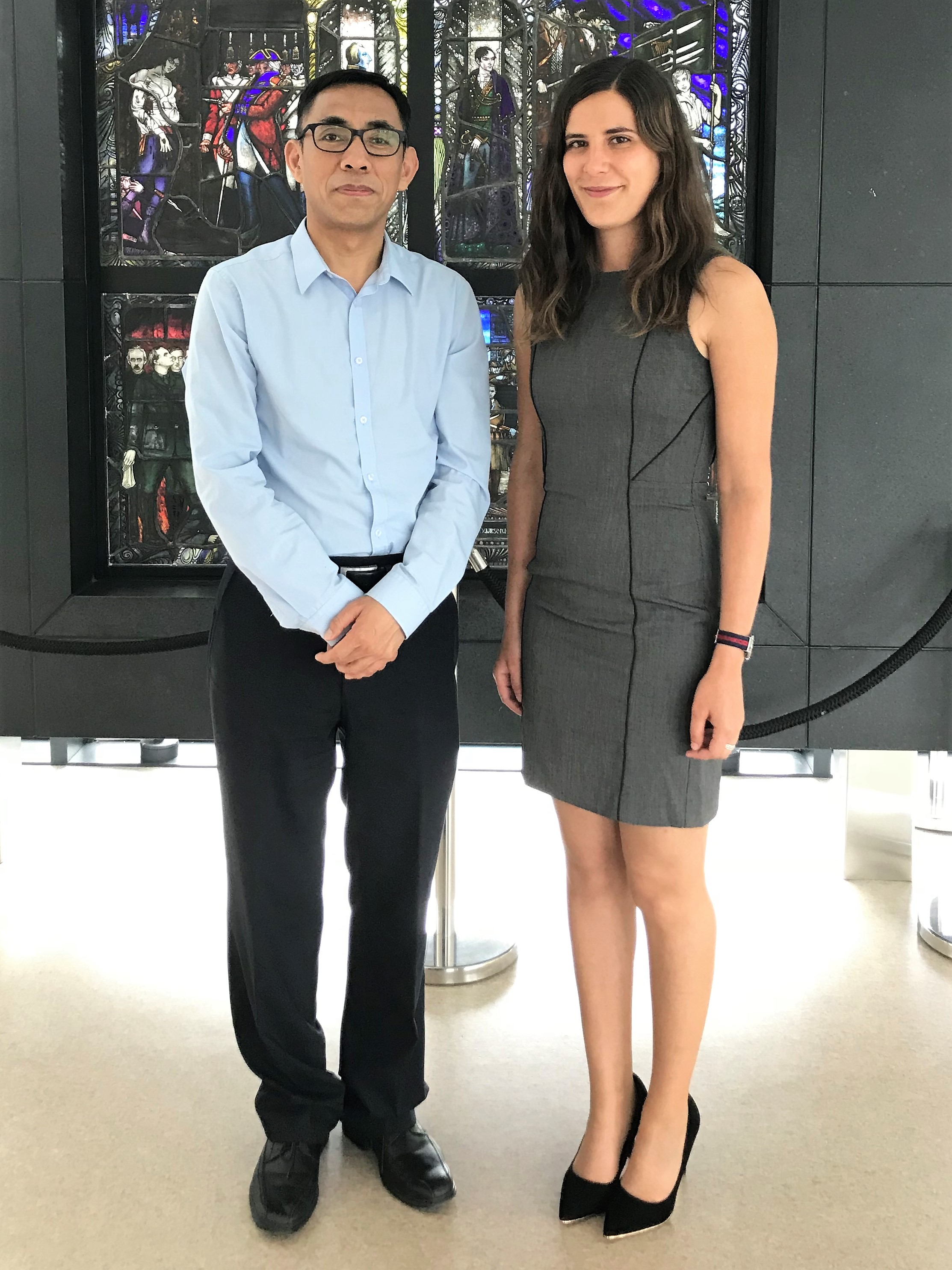 2018-June-28th
We are pleased to announce that we successfully hosted the fifth HyMedPoly meeting on 21st and 22nd of June 2018 at the University College Dublin (UCD). The first day of the event was dedicated to the fifth HyMedPoly open workshop. The theme of workshop was 'From Science to Products', in the context of the development of novel antibacterial therapies based on biomedical polymers and inorganic materials. Several informative talks were delivered focused both on the clinical and financial requirements to bear in mind when investigating and commercialising new medical products.
During the open workshop, the posters prepared by the Early Stage Researchers (ESRs) from HyMedPoly consortium on their latest achievement were displayed in the Kevin Barry gallery. On the second day, all the ESRs presented a 15-minute talk to showcase their technical highlights and dissemination activities since December 2017 and planned activities for the coming 6 months, followed by a 5-minute discussion. At the end of the day, a tour of the laboratory of Prof Wenxin Wang's research group in UCD was organized for all the ESRs.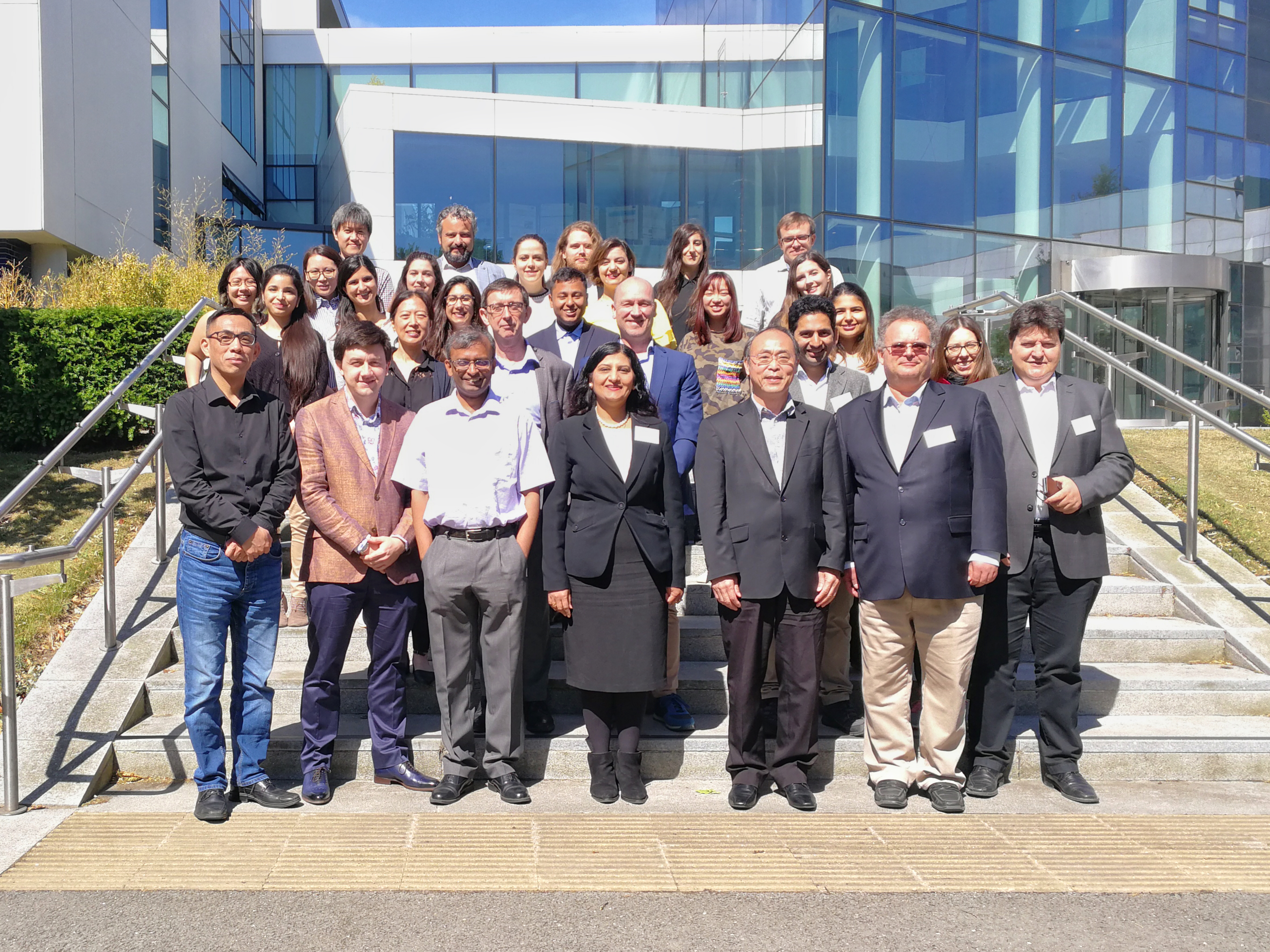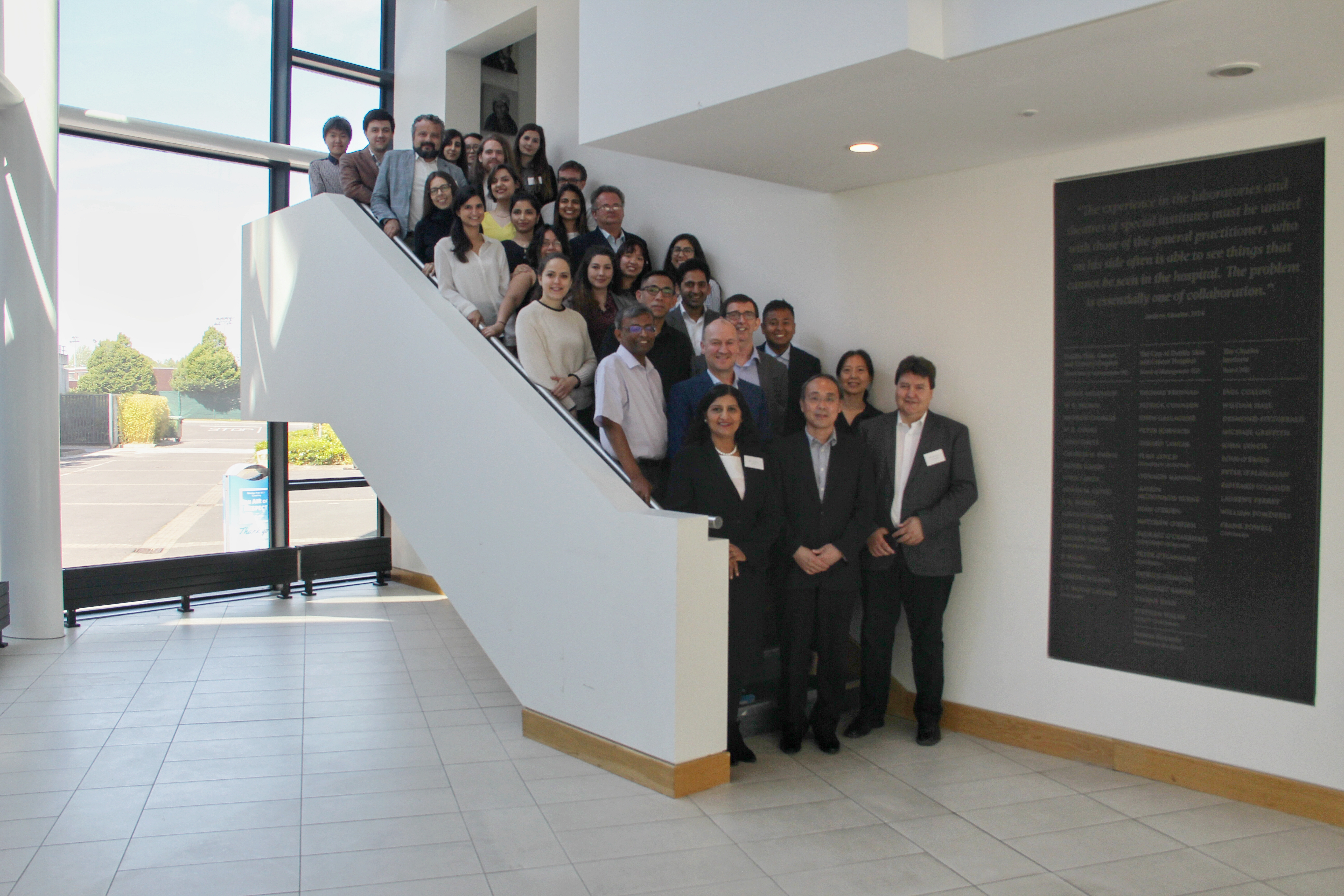 2018-April-29th
Recently, Jonathan O'Keeffe-Ahern took part in the 10th Annual DEBRA Ireland Wicklow Mountains Challenge Half Marathon. He was one of 400 runners to take on one of the toughest mountain races in Ireland.
We'd like to sincerely thank Jonathan who undertook the feat so as to raise money for families living with the rare and painful skin disease, EB. His participation highlighted what the race is all about - families of children with EB and dedicated researchers, fighting to find a cure.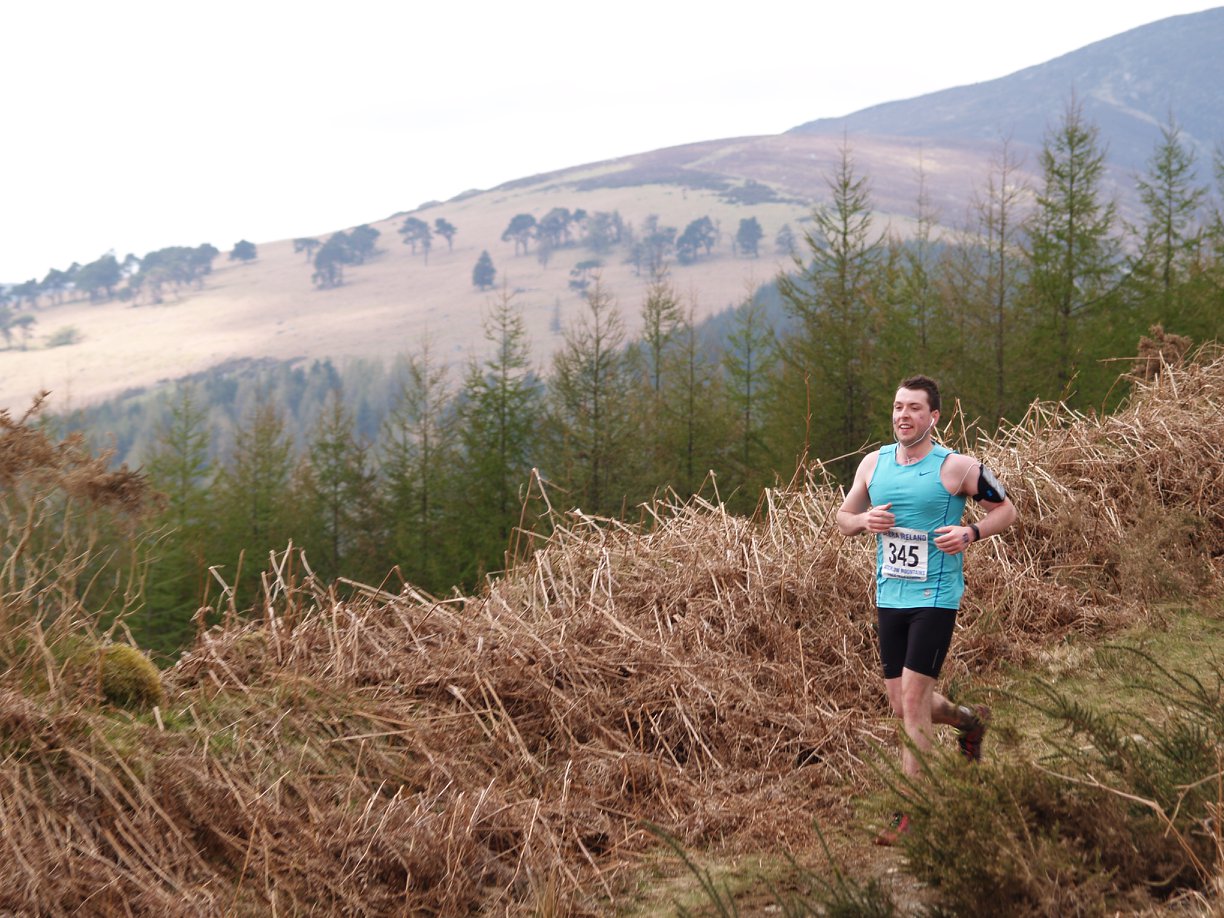 2018-February-20th
Vornia Ltd., a biomaterials company founded by Professor Wenxin Wang, recently has been purchased by Ashland Inc. As a consequence, Blafar Ltd. was spun out from Vornia Ltd. and formally established on 19th Feb 2018.
Blafar will continue to supply functionalised biopolymers with high quality and commit to develop the products for cosmetic and medical devices industry.
Congratulations to Professor Wang! We hope these two companies will have the great growth and successfully become the top-ones!
Please find two companies' website links as below:
Vornia Ltd.: www.vornia.com
Blafar Ltd.: www.blafar.com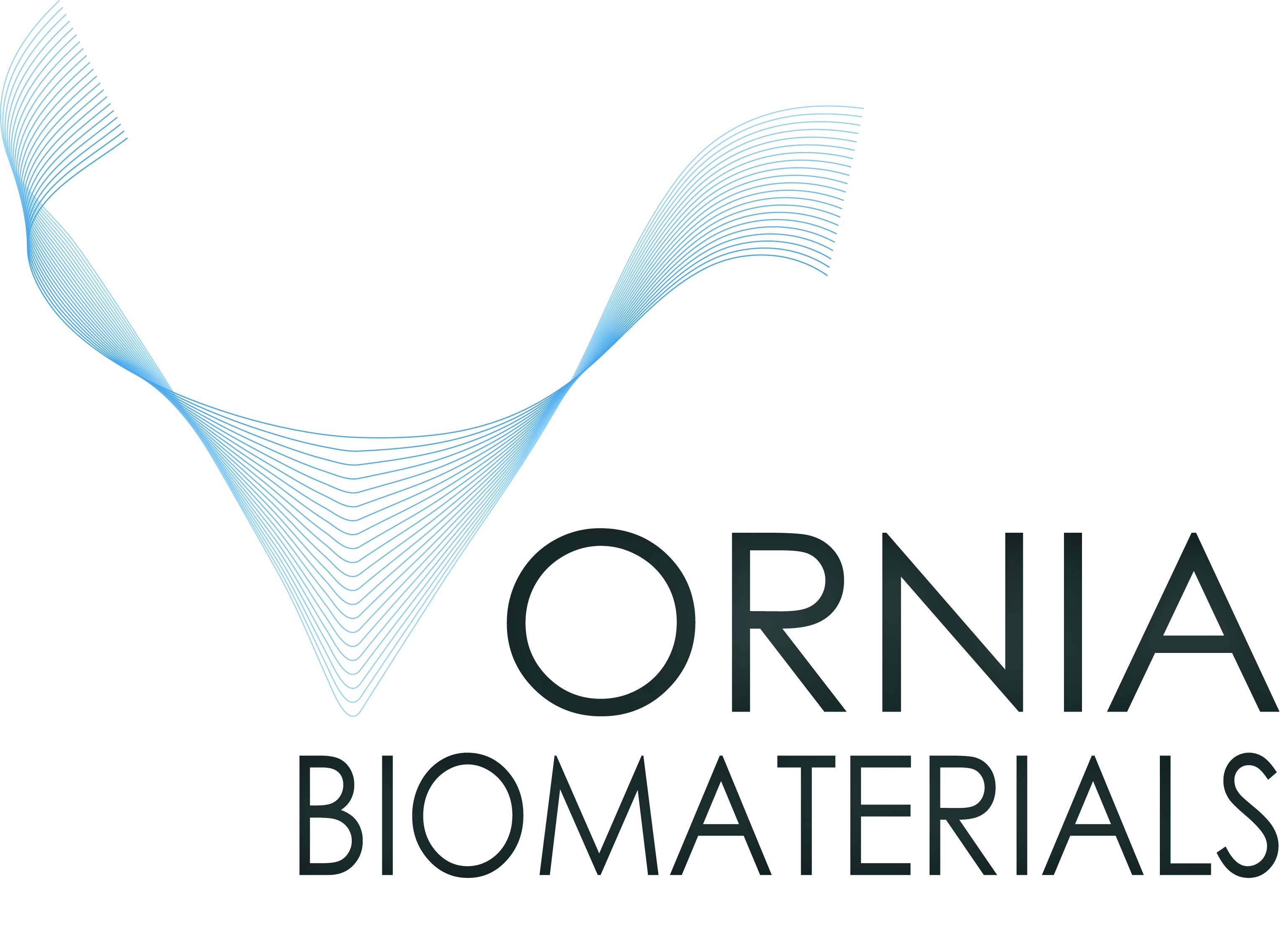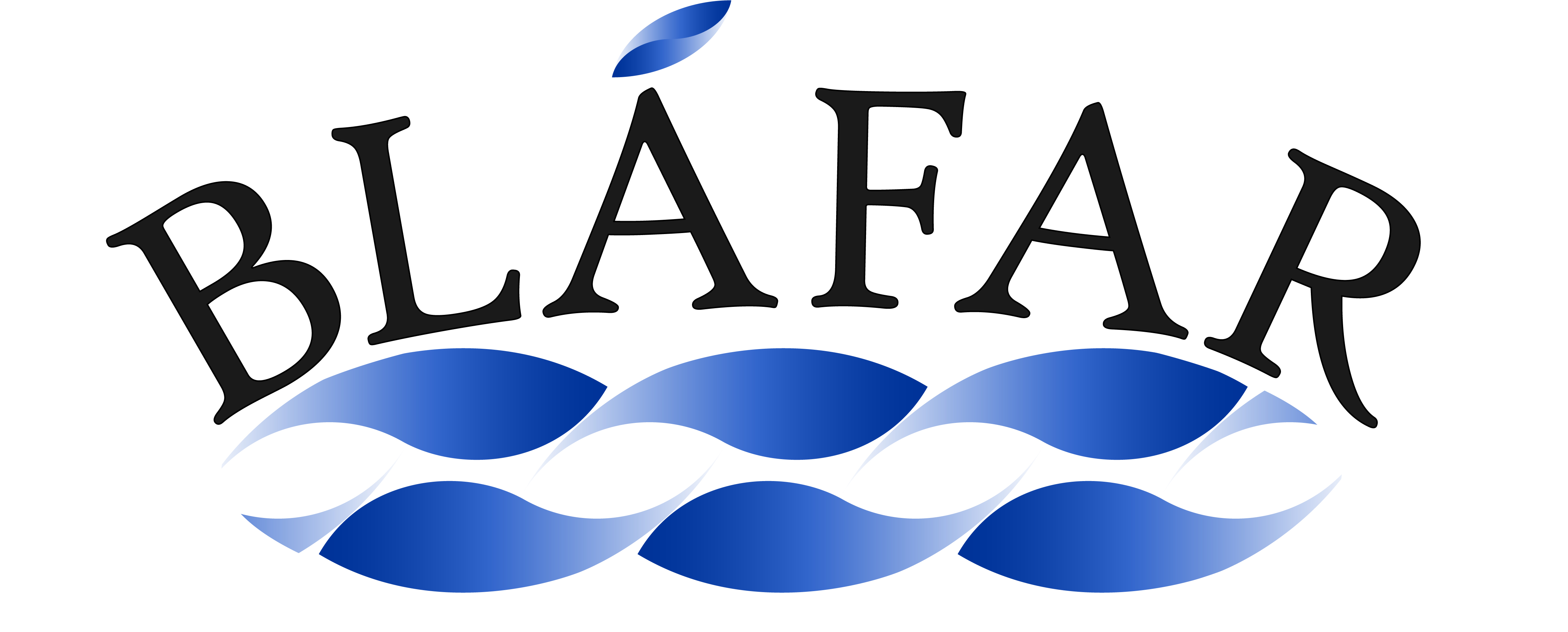 2018-February-7th
With the aim of developing a treatment for the rare and debilitating skin disorder - Recessive Dystrophic Epidermolysis Bullosa (EB), Irish biopharma company Amryt and Professor Wenxin Wang have signed a licensing deal. The agreement, negotiated by NovaUCD's technology transfer team will see Prof Wang's team and Amryt working on a novel gene therapy platform for the treatment of EB.
Professor Wenxin Wang, Dr Lara Cutlar and Dr Dezhong Zhou developed and characterised this topical therapy for RDEB which could also be established as a gene therapy platform. One of the main bottlenecks for clinical gene therapy is the lack of safe and efficient gene delivery vectors. The polymer they developed carries the gene into the skin cells and then breaks down releasing the gene so the patient's own cells can use it to make collagen. The fully functional collagen can then travel out of the cell to where it's needed, giving the skin back its flexible strength.
Amryt, as a biopharma company focuses on rare 'orphan' diseases and the signing of the in-licence agreement with University College Dublin (UCD) could prove immeasurably beneficial to the lives of those living with a rare and debilitating skin disorder. Preliminary data suggests that this gene therapy treatment could be potentially game-changing for patients living with RDEB.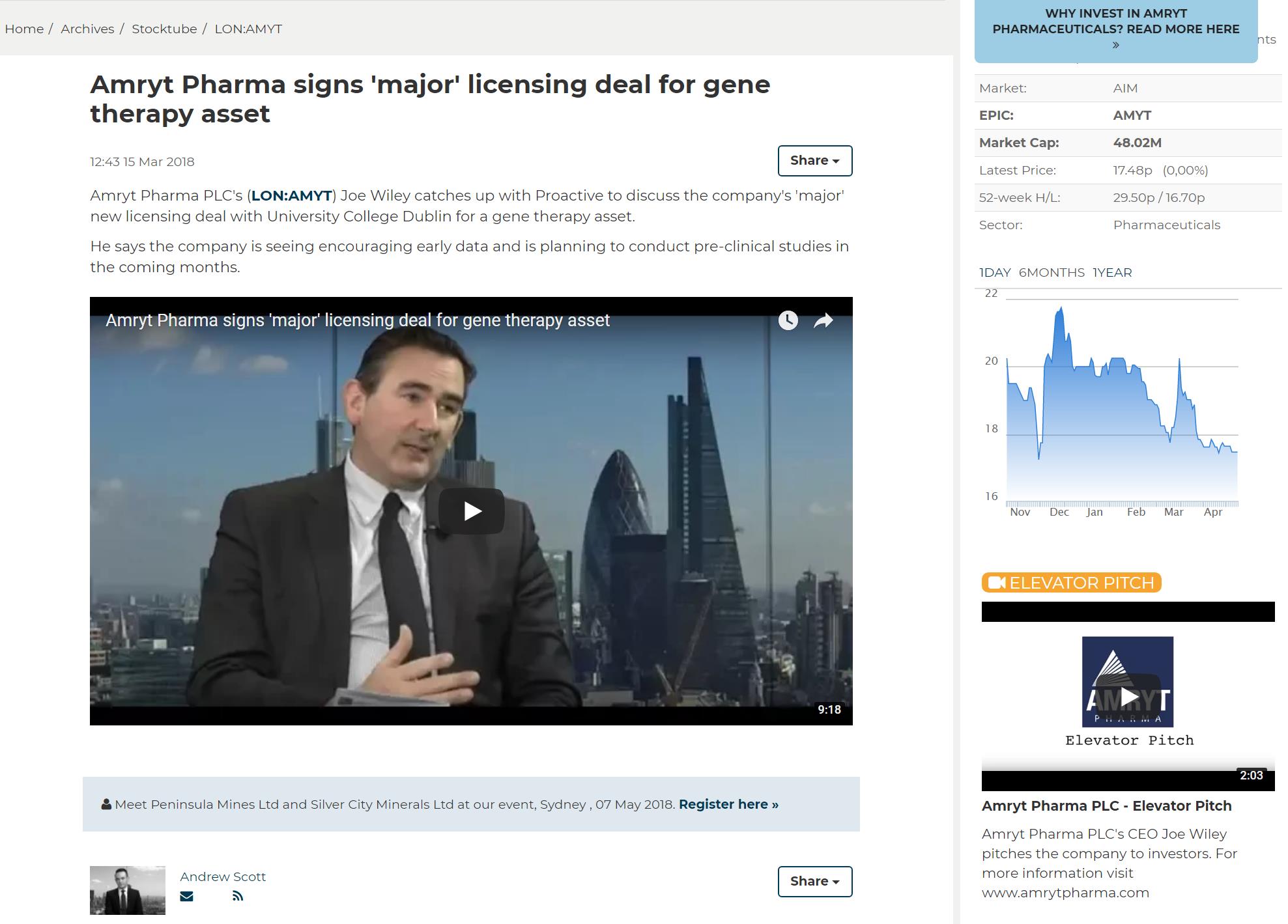 2017-July-27th
We are thrilled to announce that Yongsheng Gao, who has been in our group for four years, successfully defended his PhD thesis at the UCD Charles Institute of Dermatology on Tuesday July 25th 2017! Congratulations, Dr. Yongsheng Gao!
Yongsheng's research has been focused on the development of biomaterials from controlled polymerisation of multivinyl monomers. Yongsheng has published several peer-reviewed papers and received the Chinese Government Award for Oustanding Students Abroad (very prestigious award) from his PhD study.
We wish you all the best for your new career in the future - we will miss you!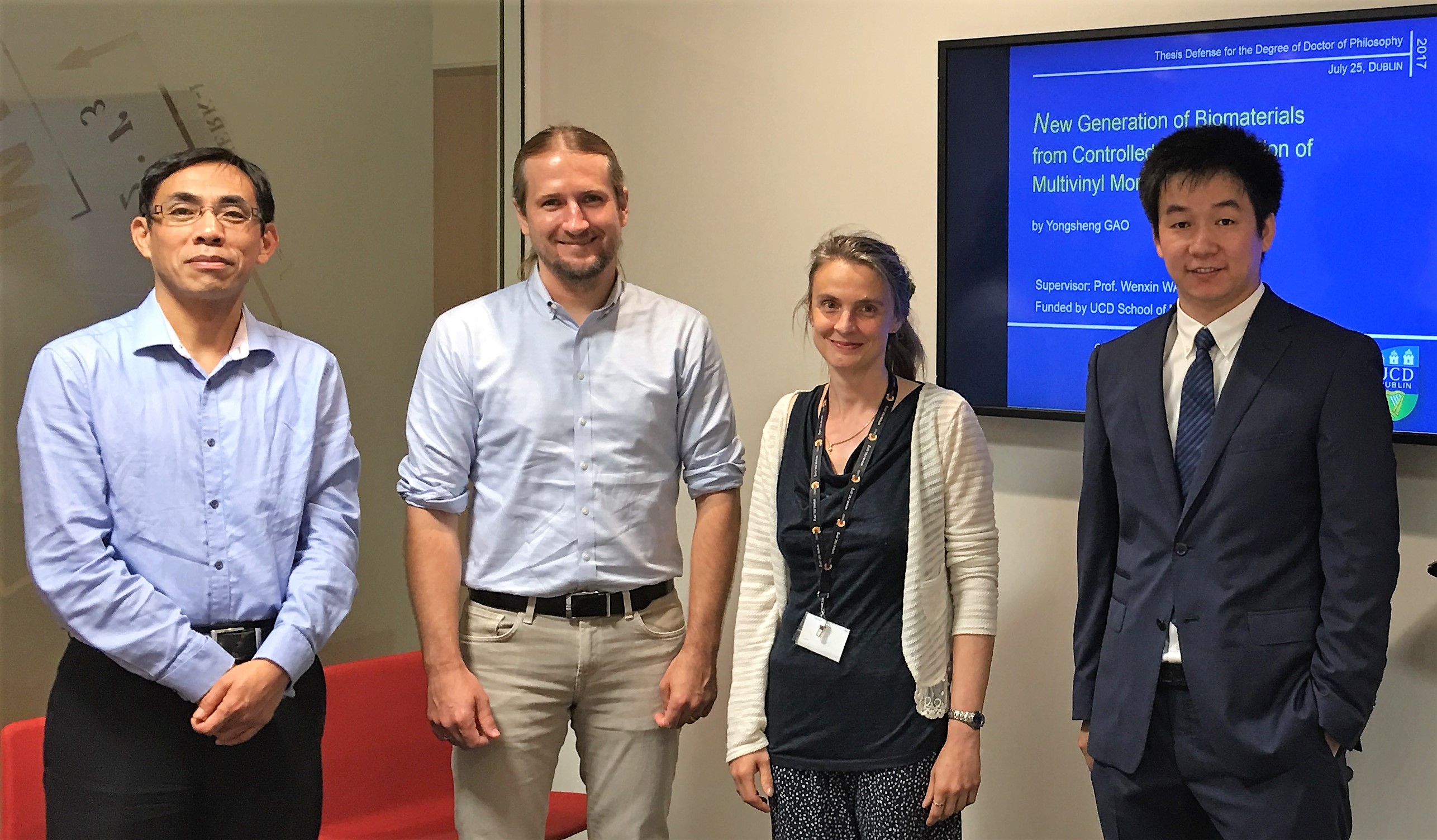 2017-July-12th
We have had not one but two articles written about our work recently. Emma Fogarty and Dr Cutlar were interviewed for a Silicon Republic piece to mark Inspirefest choosing DEBRA Ireland as their charity partner. Here is the link: Butterfly skin effect: Highlighting the need for EB research.
Claire O'Connell also wrote this great short piece after an interview With Dr Wang and Dr Cutlar for the Irish times. It was great to talk with Claire and shine a light on our work for the public to see. Here is the link: Science Lives: sticking with research for the skin disease EB.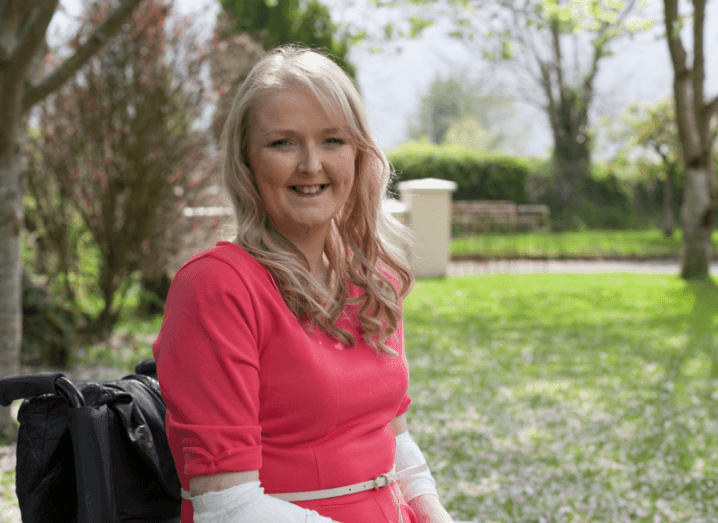 Emma Fogarty DEBRA Ireland Patient representative, Interviewed in Silicon Republic.
2017-May-22th
Recently, Professor Wenxin Wang was interviewed by Claire O'Connell. They talked about Professor Wang's work on the skin disease EB, and also mentioned his future research plan. This interview has been posted on The Irish Times and here is the link: Science Lives: sticking with research for the skin disease EB.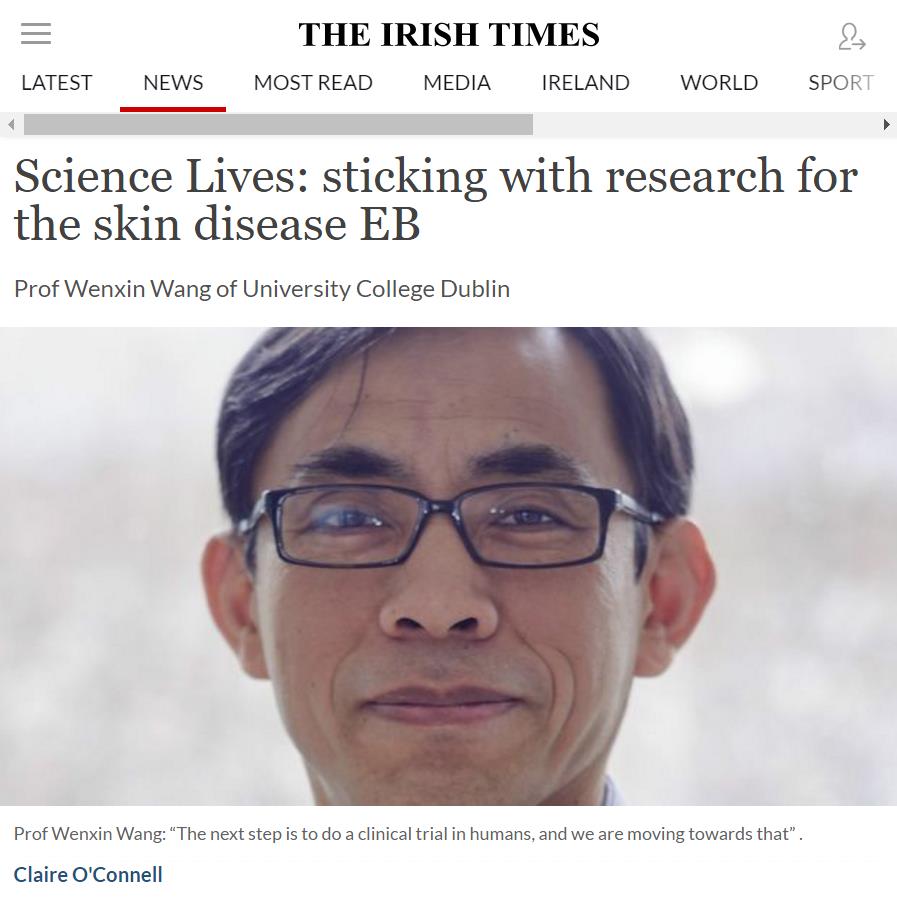 2017-April-12th
Congratulations to Sean McMahon for successfully defending his PhD thesis at the Charles Institute in UCD on Wednesday April 12th 2017!
Sean's research has been focused on the design and development of bioresorbable polymers for use in medical devices. Sean's project was concentrated on bioresobable stents and the design of functionalised biomaterials capable of improved performance in this application. Sean received very positive feedback from examiners and will graduate in Aug/Sept 2017. Well done Sean!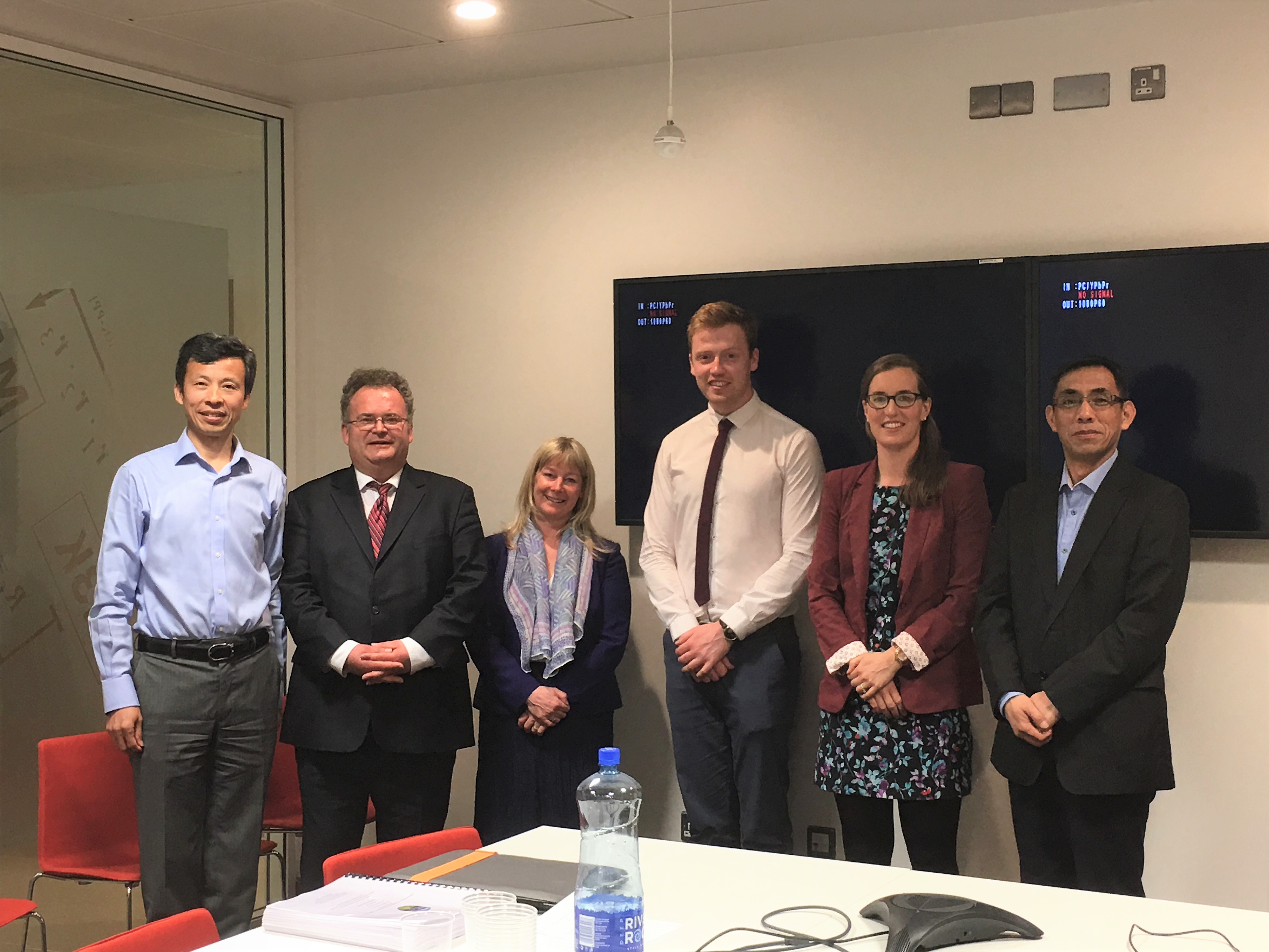 2017-March-30th
Welcome the Chengdu Municipal Foreign & Overseas Affairs Office delegation's visit to UCD!
The delegation headed by Mr. Jin Jiaxiang - the Vice President of Chengdu People's Political Consultative Conference visited our lab and campus. Hope they had spent a great time in UCD!
2016-October-14th
Yongsheng, Ben and Dezhong's review paper on our work: Controlled Polymerization of Multivinyl Monomers is accepted in Angewandte Chemie! Congratulations to the team for this big milestone achievement!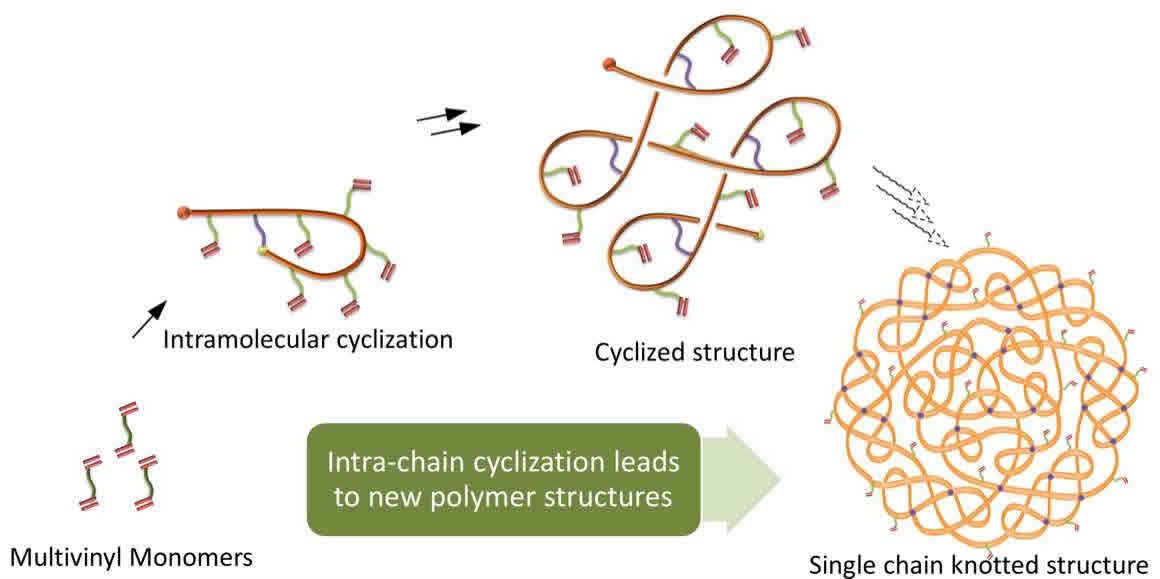 2016-September-9th
Yongsheng Gao was awarded the Chinese Government Award for Oustanding Students Abroad for his research on novel biomaterials from controlled polymerization of multivinyl monomers. The Chinese Government Award for Outstanding Students Abroad is a scholarship set up by the China Scholarship Council (CSC) to honor overseas Chinese students with outstanding academic accomplishments. Yongsheng is the only student in Ireland received the award this year. Congrats Yongsheng on this very prestigious award!
Previous graduate students in our lab Tianyu Zhao (2014) and Hong Zhang (2015) also received this award.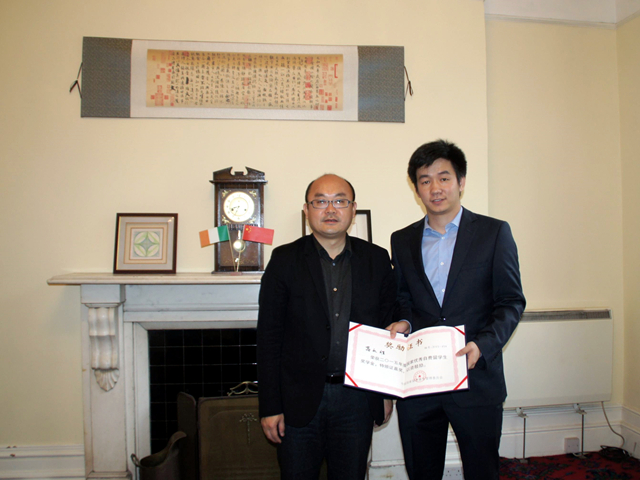 2016-August-25th
A Great Day Out!
Our 2016 group day out was to beautiful Dalkey kayaking. We were very lucky to get a hot sunny day to visit the seals of Dalkey Island. We had a great time with kayaking.ie, who provided everything we needed for our 4 hour trip.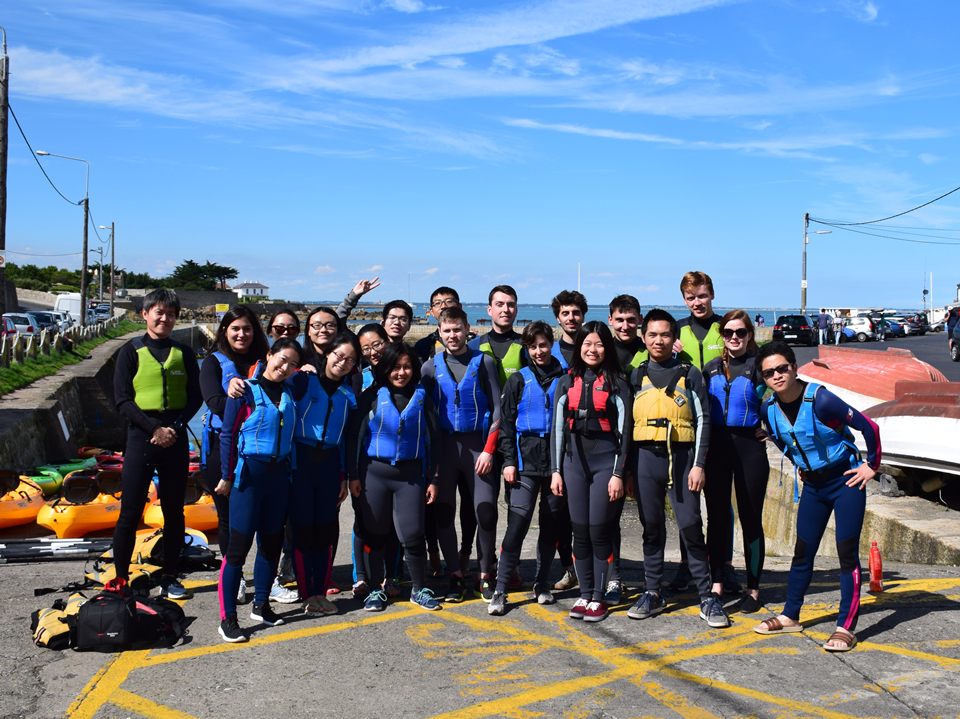 2016-August-4th
World renowned polymer chemist Prof. Krzysztof Matyjaszewski,  J.C. Warner Professor of the Natural Sciences at the Carnegie Mellon University, visited our lab and presented a seminar entitled "Macromolecular Engineering by Atom Transfer Radical Polymerization".
Prof. Krzysztof Matyjaszewski is best known for the discovery of atom transfer radical polymerization (ATRP), a novel method of polymer synthesis that plays a decisive role in the controlled synthesis of tailor made polymers. He has co-authored >900 publications (cited >80,000 times, h-index 138) and holds 54 US patents. Matyjaszewski received 2015 Dreyfus Prize in Chemical Sciences, 2011 Wolf Prize in Chemistry, 2009 Presidential Green Chemistry Challenge Award, and from ACS: 2015 Overberger Prize, 2013 AkzoNobel North America Science Award, 2011 Applied Polymer Science Award, 2002 Polymer Chemistry Award. He received 9 honorary degrees and is a member of National Academy of Engineering, National Academy of Inventors, Polish and Russian Academies of Sciences.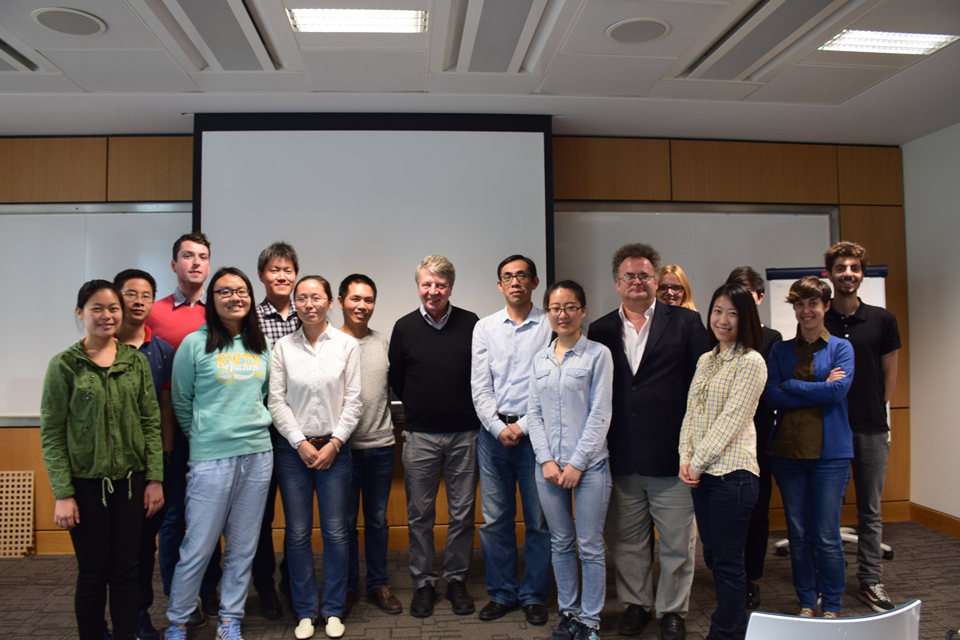 2016-June-28th
We are are very happy for this kind mention this week in the highlights article of Science! Our paper "The transition from linear to highly branched poly(β-amino ester)s: Branching matters for gene delivery" is published in Science Advances. Fantastic work by Dr Zhou et al!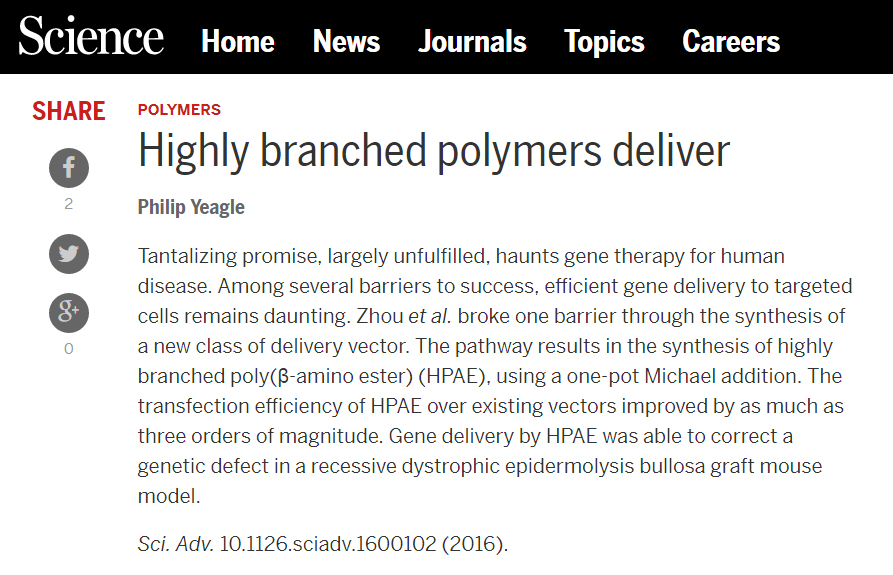 2015-August-26th
A Great Day Out!
Our annual group day out was to the magical Dublin Zoo this year! It was a huge success, lovely animals, great food and all on a sunny, late summers day. We went for fantastic meals at FX buckleys and Ka Shing, on Wicklow street, thanks to everyone for a great day!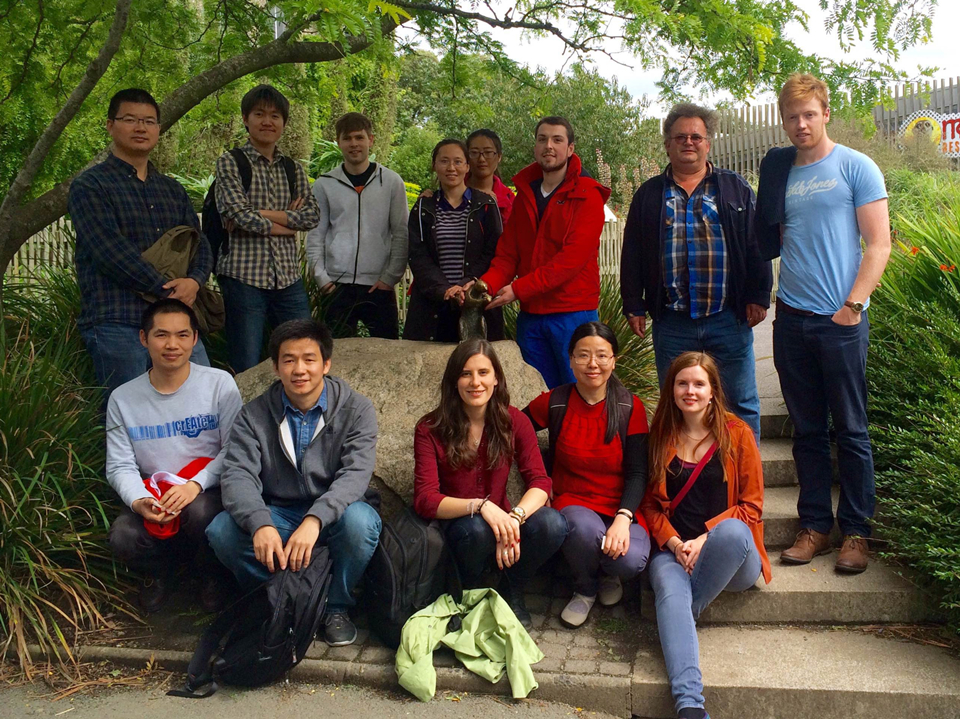 2015-August

-5th

What Work is Currently Happening in EB - 2015 DEBRA International Research Symposium.

Dr Wenxin Wang and Dr Lara Cutler presented our recent breakthrough work about non-viral gene therapy for recessive dystrophic epidermolysis bullosa (RDEB) on 2015 DEBRA International Research Symposium, jointly organised by DEBRA of America and DEBRA International. Dr Lara Cutlar also received an interview with world-renown clinical researchers such as Jouni Uitto, Jakub Tolar and Leena Bruckner- Tideman during the symposium.
2015-July

-8th

We are very proud to announce that Hong Zhang, who has been with our group for four years, passed her PhD Viva on Wednesday, July 8th.

Congratulations, Dr. Hong Zhang ! You have done a great job!

Hong Zhang has been working on 'synthesis and characterization of novel biodegradable highly/hyper branched polymeric biomaterials for wound closure of different types of tissue" and successfully published 6 manuscripts in peer-reviewed Journals with high impact factors.

Prof. Jeff Karp, Associate Professor at Brigham and Women's Hospital, Harvard Medical School,a world renown expert in the field of nanoscale/microscale materials and bio-inspired approaches was the external reviewer of Hong's PhD examination committee (Chairperson: Prof. Michael D Gilchrist, School of Mechanical & Materials Engineering, University College Dublin; Internal examiner: Dr. Eoin O'Cearbhaill, School of Mechanical & Materials Engineering, University College Dublin).

We wish you all the best for your new career in the future - we will miss you!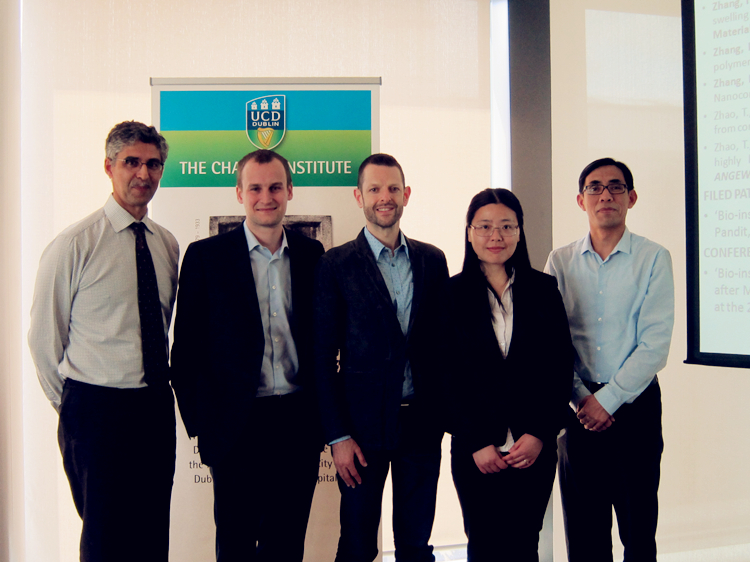 2015-June

-23rd

We are thrilled to announce that another member of our team recently successfully defended her PhD Thesis. Lara Cutlar presented her work: "An Episomal Non-Viral Approach to Gene Therapy for Recessive Dystrophic Epidermolysis Bullosa" to Prof. Jakub Tolar and Prof. David Brayden, with Dr Frank Powell as chairperson on the 23rd of June. We were honored to be visited by the esteemed Prof Jakub Tolar who was not only very generous with his time to visit us in Dublin, but also gave us a very inspiring talk on his own work. Representative of DEBRA Ireland also kindly visited us for Prof. Tolars talk, as it was a unique opportunity for all to hear about the fantastic work he performs at the University of Minnesota. We are all very proud of Lara who all received excellent feedback on her project (the word exquisite was used!) and we are looking forward to seeing what she will do next!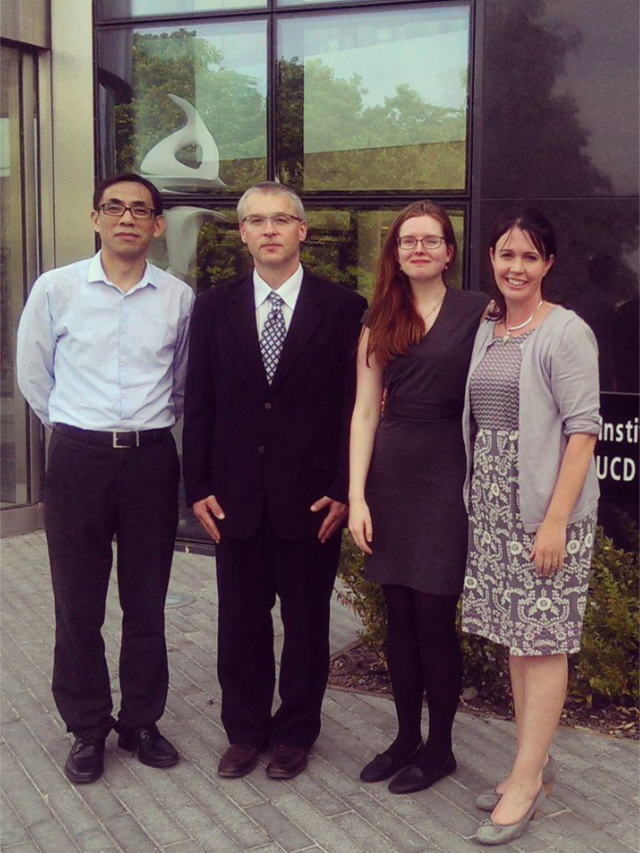 2015-June

-11th

The Chemistry World has covered our recent work, published in Chemical Science, about the development of a simple way of building new stimuli-responsive phospholipids that can self-assemble into hollow spheres and trigger the release of anticancer drugs only when inside the cell lysosome.[DNA inspires smart phospholipids]

This work, collaborated with Prof. Xinyuan Zhu at Shanghai Jiao Tong University, offers the possibility of engineering a wide variety of new synthetic phospholipids without tedious covalent synthesis. One formulation tested in vitro has encapsulated anticancer drug, doxorubicin, and delivered it to cancer cells more efficiently than standard covalent non-pH sensitive liposomes. In vivo they have demonstrated that they can increase the circulation times of the drug so that it is not expelled by the liver or kidneys as quickly as with conventional liposomes or free drug. This sustains drug release and its action against tumour cells.

Pharmacology expert Theresa Allen, from the University of Alberta, Canada, believes this to be a 'novel and creative approach to the generation of liposomes that might more easily be made to release their contents in vivo'.
2015

-April-30th

We are very proud to announce that Tianyu Zhao, who has been with our group for four years, passed his PhD Viva on Thursday, April 30.

Congratulations, Dr. Tianyu Zhao ! You have performed very well !

Tianyu has been working on 'Controlled/living Radical Polymerization of Multi-vinyl Monomer towards Hyperbranched Polymers for Biomedical Applications' and successfully published 11 manuscripts in peer-reviewed Journals with high impact factors. Some of Tianyu's accomplishments are first author publications in Nature Communications, 2013, 4, 1873 and Angewandte Chemie, 2014, 53(24), 6095-6100.

Prof. Karen Wooley, Texas A&M University, Departments of Chemistry, Chemical Engineering, and Materials Science & Engineering College Station, Texas, USA, a world renown expert in the field of advanced applications for sophisticated nanoscopic devices was the external reviewer of Tianyu's PhD examination committee (Chairperson: Prof. Martin Steinhoff, Charles Institute of Dermatology, University College Dublin; Internal examiner: Dr. Xiangming Zhou, UCD School of Chemistry and Chemical Biology).

We wish you all the best for your new career in the US industry - you will be missed by all of us so, Tianyu!
2015-February

-24th

We are happy to announce the recent arrivals of two new, very promising Ph.D. students in our group - Qian Xu and Sigen A - who just joined us from China to work with our team on the project with the title 'In situ formed Skin Substitute in Combination with Gene Therapy for Wound Healing'.

Welcome, Qian and Sigen! We look forward to working with you!
2014-October

-24th

Friday 24th October is EB Awareness Day, where we can be real supporters of children born with the blistering skin condition, EB.

DEBRA Ireland supports children and adults who are living with an incredibly painful condition known as epidermolysis bullosa (EB). Children born with the condition have no collagen in their skin so it tears and blisters at the slightest touch. Their skin is as fragile as a butterfly's wing and just as easily damaged. A butterfly appears in DEBRA's logo and this is where the idea for Release Your Butterfly came from. Harry Styles headed up EB Awareness Day last October by tweeting a picture of his own real butterfly tattoo to his 21 million Twitter fans with the message "I released my butterfly for EB Awareness Day. Join me #ReleaseYourButterfly"

This year, the charity is asking the public to release their butterfly by picking up a temporary tattoo in any Insomnia, sticking it on, snapping a pic, sharing across social media and texting BUTTERFLY to 50300 to donate €4. It's that simple!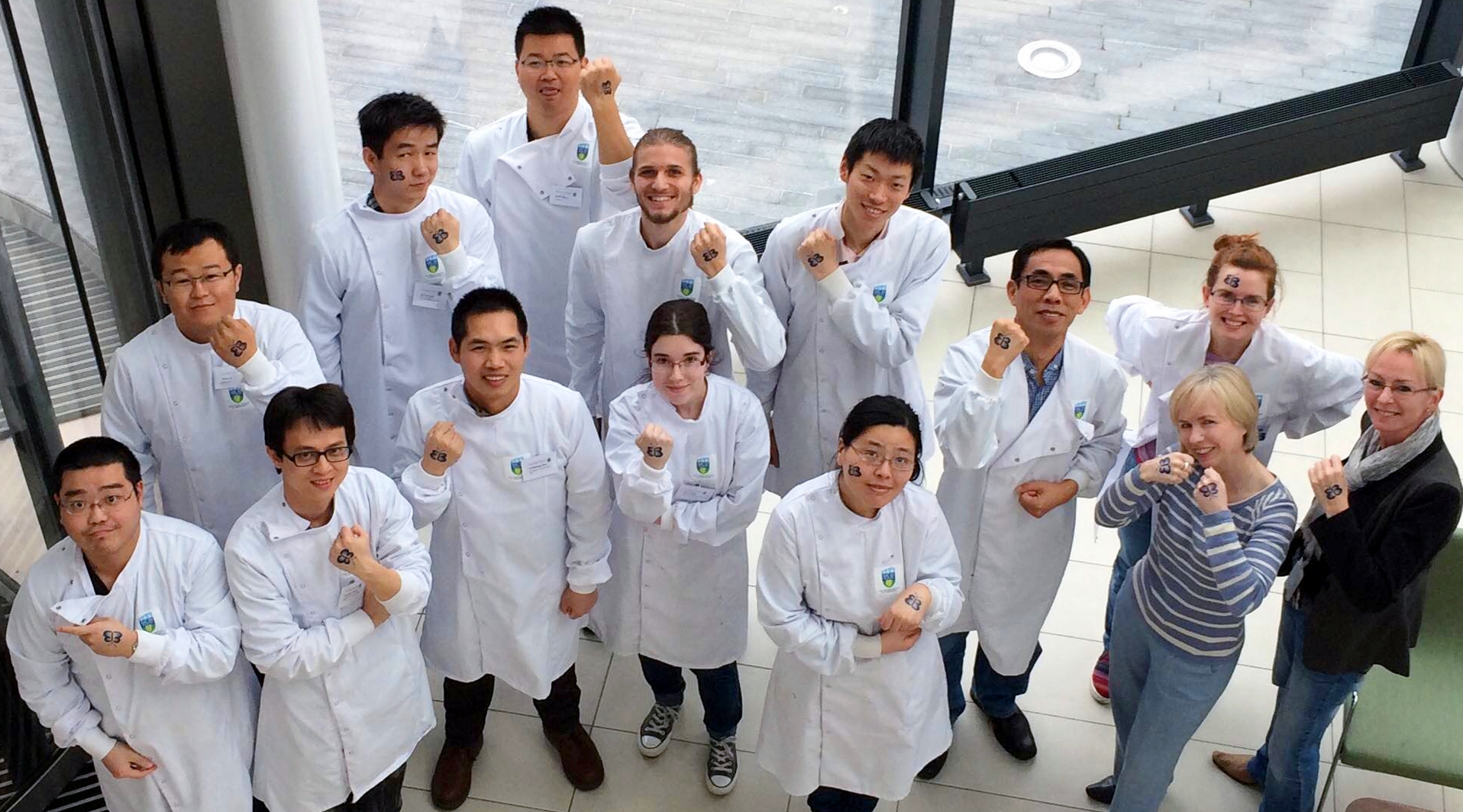 2014-October

-9th

Author Insight: Dr Wenxin Wang on Angewandte Chemie article (2014)

Dr Wenxin Wang and his team describe recent research on a ground-breaking synthesis process for polymers for use in gene therapy to target diseases like Epidermolysis Bullosa (EB).
2014-September

-16th

Celebration Day!

Our group celebrated recent publication and funding success after our relocation to University College Dublin with a great fun day-out at Kippure Estate & Lodges. Relaxing and engaging team building events at a great location in the beautiful Wicklow Mountains, great food and a sunny, late summer day provided nice memories, inspiration and helpful advice to further improve our productivity as a group with the ultimate goal of developing advanced medical products to meet the clinical requirements of wound healing.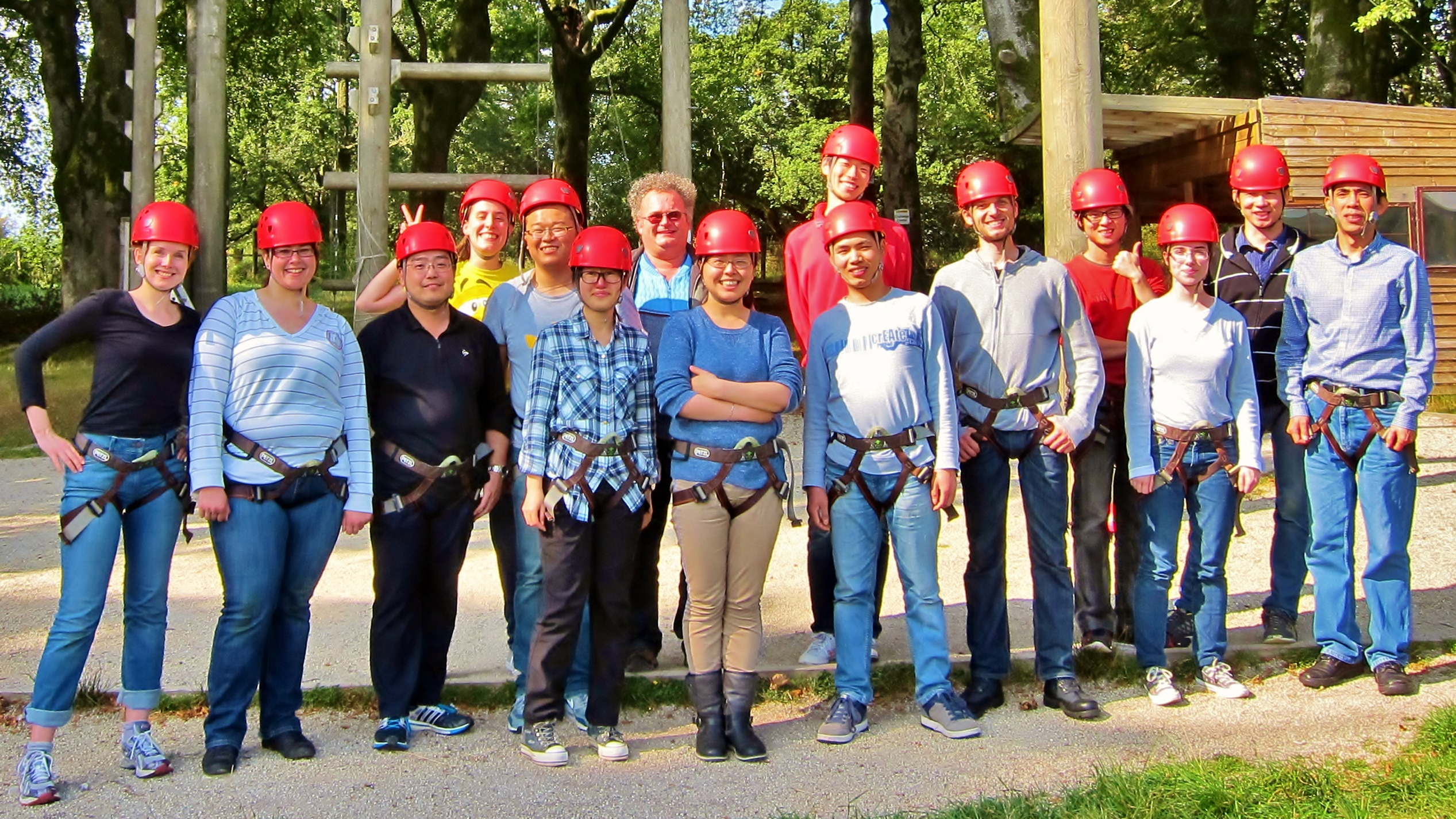 2014-July

-22th

Another student has successfully defended his thesis on June 20th of this year. Dr. Ahmed Aied, a former PhD student working under the supervision of Dr. Wenxin Wang, was working on the development of polymer transfection vectors for applications in wound healing therapy. He was specifically trying to correct the genetic mutation in wounds of patients with a disease called Recessive Dystrophic Epidermolysis Bullosa. The success of his project (funded by the National University of Ireland, Galway fellowship and Science Foundation Ireland) earned him a PhD with minor corrections and many publications in the area of gene therapy.
2014-May

-15th

Dr. Wenxin Wang from UCD Charles Institute and School of Medicine & Medical Science will lead one of thirty-six projects awarded funding under the Science Foundation Ireland (SFI) Investigators programme which is announced details of a €47 million investment for scientific research in key priority areas. His research project aims to develop an artificial skin that could promote wound healing. Diabetic wounds or those seen in patients with the fragile skin condition, epidermolysis bullosa or EB, cause much suffering. This project will focus on developing a skin substitute to mimic human skin that could be used to seal a wound, provide protection and accelerate healing.
2014-May

-2nd

Tianyu Zhao, a 4th PhD student, who is following Dr. Wenxin Wang in UCD Charles Institute & School of Medicine & Medical Science have developed a ground-breaking synthesis process for polymers that will allow new compounds for gene therapy applications to be easily made. The details of their new polymerisation strategy are published today in the scientific journal, Angewandte Chemie.
2014-Mar

-15th

Lara Cutlar a final year PhD student in the group recently had received a travel fund to attend the 3rd Minicircle conference sponsored by Plasmid factory.
(cms.plasmidfactory.com/en/)
Along with 3 other young investigators Lara presented her project, 'Design and construction of a COL7A1 minicircle for non-viral gene therapy to treat recessive dystrophic epidermolysis bullosa'. Photo left to right: De la Vega, Cutlar, Oliveria and Rombouts.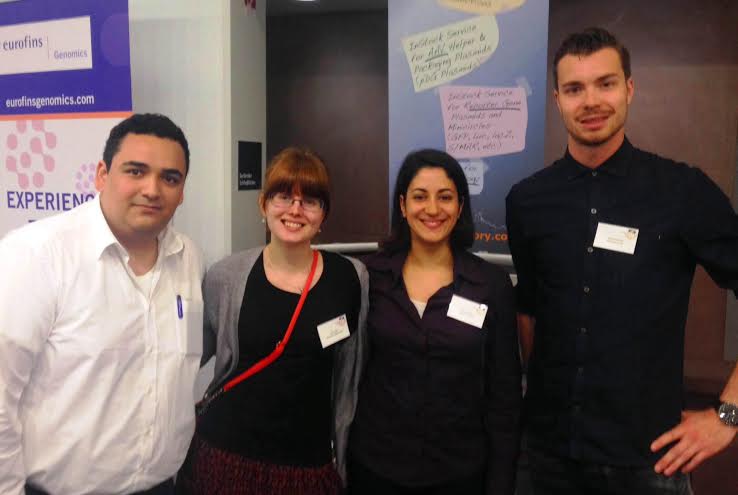 Photo left to right: De la Vega, Cutlar, Oliveria and Rombouts.
2014-Apr

-30th

We are happy to announce that we have recently relocated to our new facilities at the Charles Institute of Dermatology, School of Medicine and Medical Science, University College Dublin (UCD). UCD Charles Institute of Dermatology is the only academic institute devoted to skin research in Ireland.  The Charles Institute is unique on a European level as it is the only such Institute that is focused exclusively on research related to the skin and its disorders. Affiliated with the prestigious UCD Conway Institute, the Charles Institute's vision is to become a world leader in dermatology research and training, which will lead to improved patient care through the discovery of new treatments and therapies. Our group is looking forward to working with the Director, Prof. Martin Steinhoff, and with Prof. Frank Powell, Chairman of the Board of Directors, towards achieving the Charles Institutes' goals. The focus of our research will be to improve the lives of patients suffering from Recessive Epidermolysis Bullosa, diabetic ulcers and other wound healing complications. Our research team is currently composed of one Research Scientist, two Postdoctorate-Researchers and twelve Ph.D. students. We would also like to extend a warm welcome to two visiting students of our group at the Charles Institute, Xingang Li and Jianyuan Huang. Xingang is an undergraduate student at the Dublin Institute of Technology, and Jianyuan is a 4th PhD student joining us from National Taiwan University. We are looking forward to have a wonderful collaborations together.
2013-Nov

-21th

Big changes are happening to the group!
This month Dr. Wang officially become a senior lecturer at UCD and will shortly be installed in the beautiful new dermatology research space, the Charles institute. This new building is attached to the well established and esteemed Conway institute and will be our groups new home from January 2014. Although we are sad to be separating from the NFB, this is an exciting opportunity to work in a dedicated dermatology research environment. We have already begun preparations to move to the new institute and we are all very much looking forward to working with Dr Steinhoff and the other members of the Charles.
2013-Sep

-5th

We should congratulate Yixiao Dong, Dr Wenxin Wang's first PhD student in NUI Galway, on his graduation. Now he can add a Dr. before his name. We are reluctant to his leaving, but luckily, we will have Dr Dezhong Zhou, Sean Mc Mahon, Kieran, Zehua Li, Yongsheng Gao joining our group, bringing new energy to our group!
2013-May

-28th

Dr Wenxin Wang's newly published study in Nature Communications has gained great attention recently. Coverage of the new celtic knot polymer can now be found in a range of websites including: Chemistry world, Chemical Processing, Irish times, Sciencedaily, HRB and NUI Galway, please check them out in links below!

http://www.rsc.org/chemistryworld/2013/05/polymer-tied-celtic-knots

http://www.chemicalprocessing.com/articles/2013/polymers-branch-out/

http://www.irishtimes.com/news/science/ancient-celtic-knots-inspire-scientific-breakthrough-1.1401644

http://www.sciencedaily.com/releases/2013/05/130522085335.htm

http://www.hrb.ie/about/in-the-news/?no_cache=1&tx_ttnews%5Btt_news%5D=250&tx_ttnews%5BbackPid%5D=19&cHash=2d639200a91fc13adc369edb12e2a452

http://www.nuigalway.ie/about-us/news-and-events/news-archive/2013/may2013/polymer-breakthrough-inspired-by-trees-and-ancient-celtic-knots.html

Our work with this new polymer structure is gradually being accepted by more people. "These are only early steps, we are looking forward to the realization of these structures in a wide range of applications." Dr Wenxin Wang, May 2013.
EB 2012
The tri-annual dedicated EB research congress was held in Marbella this year. Dr Wang was invited to attend the three days, and Lara and Ahmed attended with the kind support of DEBRA Ireland. All found it an inspiring and informative meet.
The aims of the congress were to:
•To review progress in EB research and identify challenges in the development of clinical solutions.
• To identify new research directions and opportunities.
• To derive consensus on priorities in fundamental EB research and therapy development.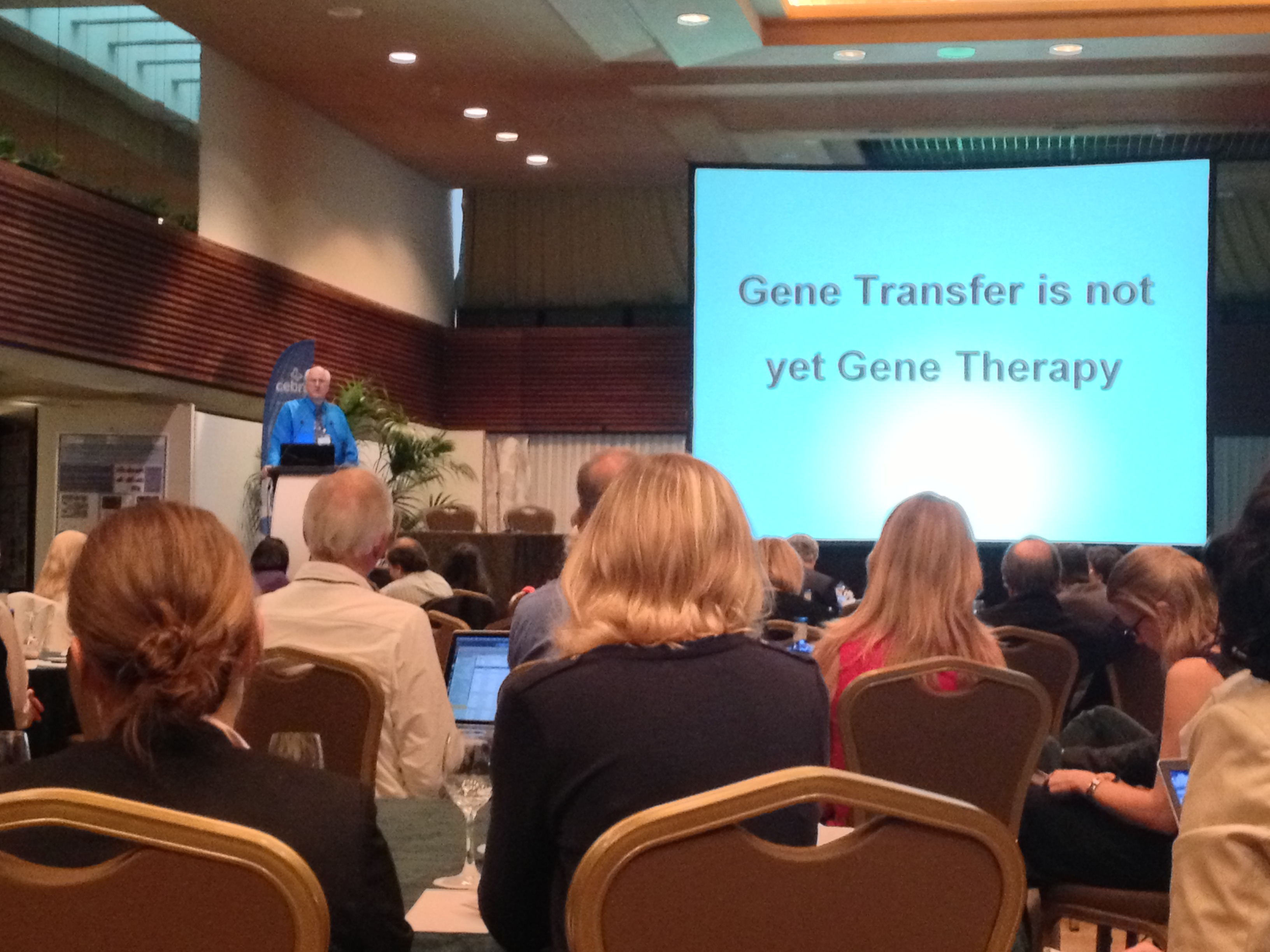 One of the eminent speakers Dr Al Lane of Stanford.
2012-October-10th
Dr Wenxin Wang was awarded a Research Enhancement Award (REA) from the Health Research Board Ireland on the 9th October 2012. The granted project focuses on the development of Bio-inspired Dendritic Polymers as Smart Tissue Adhesives for Sternal bone closure. This research work will start in Nov 2012 and end in Oct 2013. The primary purpose of a REA is to provide supplementary funding to support research activities that will deliver additional benefits and enhance the outputs/outcomes of the original award.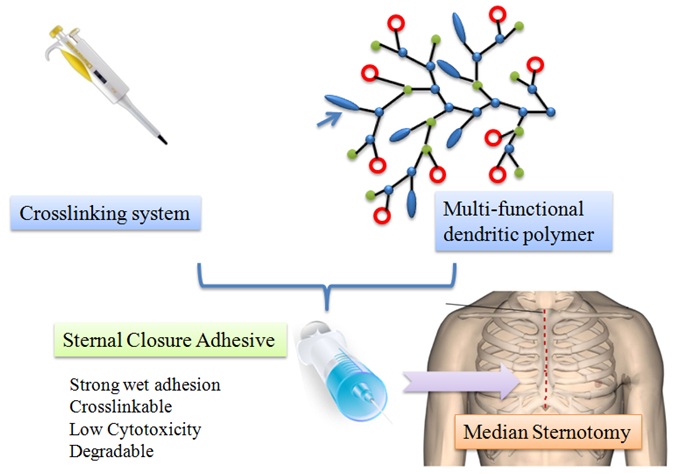 Median sternotomy, which makes a vertical inline incision along the sternum to provide access to the heart or lungs, is the most common procedure (over 750,000 cases per year performed in the U.S.) in cardiothoracic surgery. The traditional method of closure of this type of incision is with a parasternal stainless steel wire, which has the potential for tissue morbidity and has a significant mortality rate if it fails or if there is dehiscence. Therefore, surgeons have long sought more efficient closure approaches that require less time to re-open, and cause minimal discomfort for patients, including when tissue adhesives are used. Inspired by the composition of adhesive proteins, Dr Wenxin Wang's research team at the NFB have been working on designing and synthesizing a Bio-inspired dendritic polymer adhesive to overcome the drawbacks of current tissue adhesives.
2012-October-1st

Mr Hongkun Wei (Executive Partner) and his colleagues from Tianjin Venture Capital Management Co., Ltd. (TJVCM) visited Dr Wenxin Wang's research lab at the Network of Excellence for Functional Biomaterials (NFB) and the laboratory of the spin-out company Vornia Biomaterials on 1st Oct 2012. The main goal of their visit was to promote the investment and collaboration of work on biodegradable polymeric materials for medical and pharmaceutical applications. TJVCM is a high-tech company and active investor, especially in the Pharmacy/Medical and IT fields. With a team of investment professionals located in Tianjin city, TJVCM currently manages over US $1.1 billion.
2012-August-14th
On Tuesday the 14th of August a key collaboration was formed between our group and a leading Chinese research institute the Tianjin International Joint Academy of Biotechnology and Medicine (TJAB) and a major Chinese medical technology company China Nucleon Medical Technology Group (CNPK). We are very excited to have linked our work with these leaders in biomedical research and production.
A memorandum of Understanding (MOU) was formally signed at the Irish Embassy in Beijing and witnessed the Irish Minister for Health Dr James Reilly TD, the Irish Ambassador to China, Mr Declan Kelleher and President of NUI Galway, Dr Jim Browne.
"This agreement has huge potential both for the development of new techniques and treatments and for the commercialisation and translation of existing technologies to the clinical environment. China is currently emerging as a major player in biomedical research, and establishing these relationships now will pay ever-increasing dividends in the future. NFB is well poised to engage opportunities in China." Dr Wenxin Wang.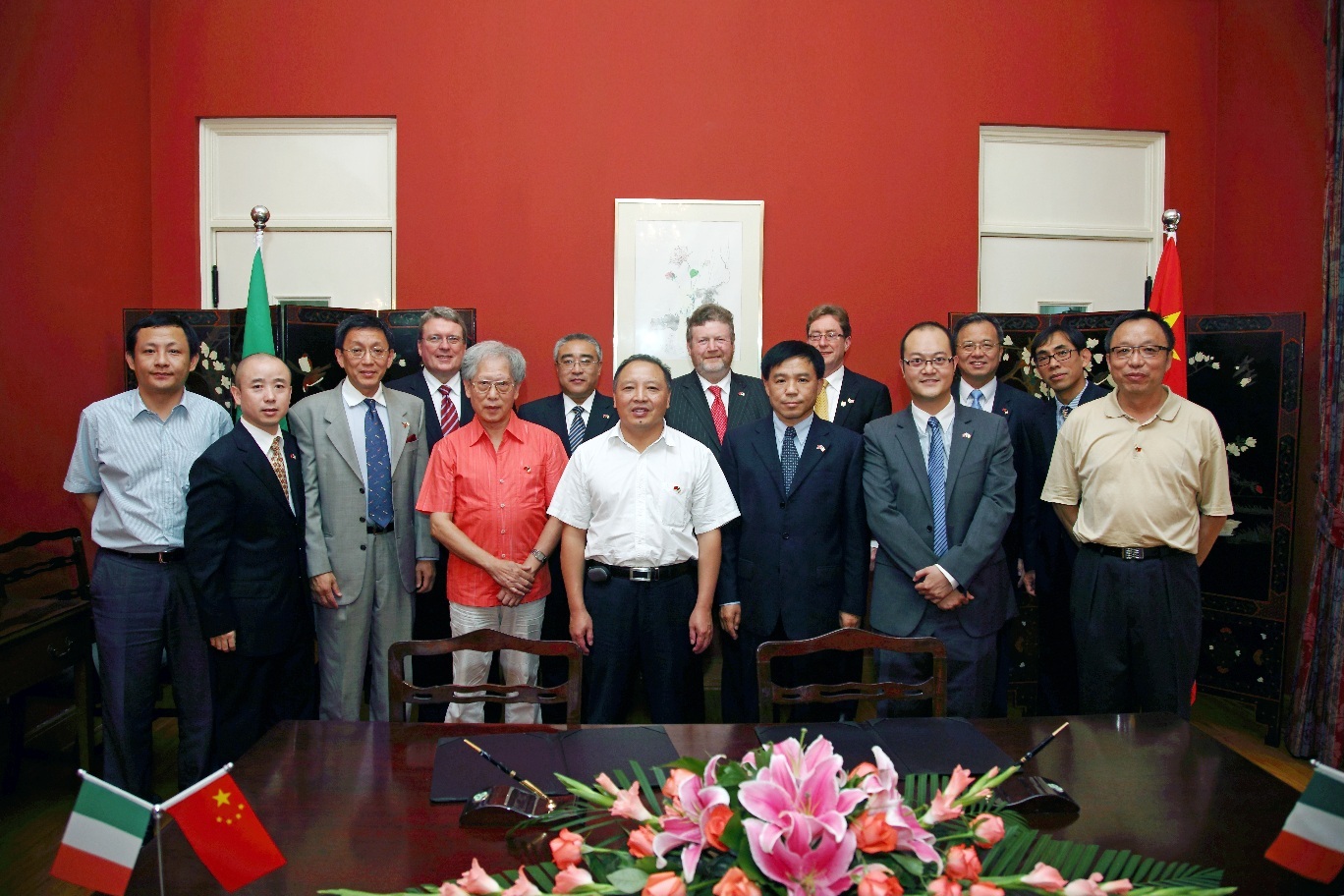 Third from left the President of CNPK- Mr CP Mang, First from right (back) -Dr Wenxin Wang, second (back) Chairman of CNPK - Dr. Chih Chen, Third (back) President of NUIG -Jim Brown, Fourth (back) Minister for Health -Dr James Reilly TD. First from left (back) Irish Embassador to China -Declan Kelleher
 "Partnerships such as the one we sign today point to Ireland's global strength in the Biomedical Sector and the importance of creating linkages which will be of mutual benefit to industry and enterprise both in Ireland and in China. It also highlights the global opportunities which exist for Irish universities and research organisations. NUI Galway is very pleased to see our partnerships in China grow and flourish in this way. We must remember that the work of this partnership in commercial research will ultimately benefit countless cancer patients and sufferers. Their future health depends on new and innovative treatments – such as those that will be addressed by this technology." President Browne.
The starting project from this collaboration and our group will be on developing a polymeric treatment for cancer therapy.
MOU publicity: Irish Times article: http://www.irishtimes.com/newspaper/ireland/2012/0814/1224322137819.html
2012-August-14th
From Irish Times
NUI Galway does research deal with Chinese institute
NUI GALWAY (NUIG) will share and exchange research on biomaterials with a leading Chinese research institute and a medical technology firm after signing a deal in Beijing today ... known as the Network of Excellence for Functional Biomaterials (NFB).
http://www.irishtimes.com/newspaper/ireland/2012/0814/1224322137819.html
2011-September-26th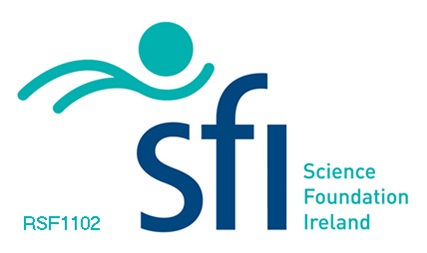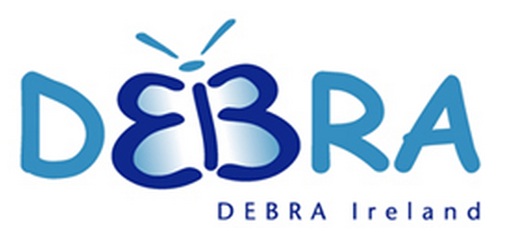 Janice Murtagh PhD associate scientific programme officer with the SFI, along with Jimmy Fallon and Avril Kennan PhD from DEBRA Ireland joined us in Galway today. After a full presentation of the groups work we discussed our progress and future directions. We were all very pleased with the positive feedback we received from Janice and DEBRA Ireland.
2011-September-7th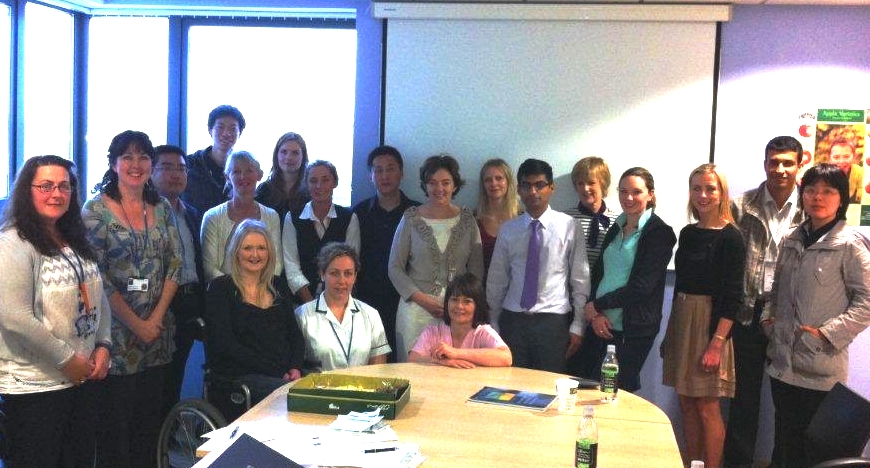 A very interesting and educational day was had by all at the beginning of September. Our research group had the wonderful opportunity to visit and speak to the staff at the EB unit in Crumlin Hospital Dublin. We learnt a lot from discussing the practicalities of treating EB. Emma and Liz who are the patient and family representatives of DEBRA Ireland also gave us a great insight in living with EB.
2011-July-4th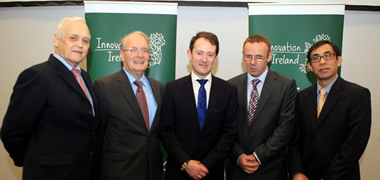 Dr Wenxin Wang has been awarded the prestigious SFI Principal Investigator award for his proposal focused on novel polymers for wound healing applications. Entitled 'In situ Formed Stem Cell Biological Dressing for Wound Healing', Dr. Wang's proposal aims to develop an advanced in-situ formed soft tissue replacement based on a unique thermo-responsive and photo-crosslinkable dendritic polymer system. Hard-to-heal chronic wounds affect millions of patients each year, and the goal of the research is to develop novel a dressing system which improves clinical outcomes for these patients. The system will incorporate stem cells and active biomolecules to enhance the therapeutic response, thereby improving clinical outcomes associated with the two chronic wound conditions in which he has a strong interest: diabetic ulcers and wounds associated with the genetic disease Recessive Dystrophic Epidermolysis Bullosa (RDEB).
2010-September-25th

The Network of Excellence for Functional Biomaterials (NFB) has recently established Vornia Ltd., a spin out company which aims to bring biomaterials-based research developed at academic institutions to a commercial endpoint. Vornia Biomaterials is an early stage company in the ever-growing biomaterials market. The company provides a design, development and fabrication service for customised biomaterial solutions for medical device and pharmaceutical manufacturers and providers who need to add differentiation to their products in the marketplace. Vornia Biomaterials provide innovative platforms based on significant in-house R&D to achieve improved clinical outcomes. Raw materials used in the production of Vornia products are available on request.
See more information: www.vornia.com
2010-July-1st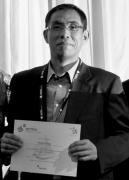 Dr. Wenxin Wang wins the SFI Prize in Regenerative Medicine at TERMIS-EU 2010
Dr. Wenxin Wang, Science Foundation Ireland (SFI) Lecturer in Functional Biomaterials at the National University of Ireland Galway won the SFI Prize in Regenerative Medicine at the TERMIS-EU 2010 conference which was held in Galway last week. The SFI Award in Regenerative Medicine was presented to Dr. Wang as he has demonstrated outstanding achievements within the tissue engineering and regenerative medicine field. The International Advisory Panel that selected the candidate based the award on the impact of the research outputs that Dr. Wang has generated to date. Having joined the Network of Excellence for Functional Biomaterials (NFB) in Galway in 2008 as a University Fellow, Dr. Wang was soon appointed as a the SFI Lecturer in Functional Biomaterials. He previously held positions as a research fellow at the University of Nottingham and gained his Ph.D. in the department of Polymer Chemistry at Shanghai Jiao Tong University in China. Dr. Wang has worked both in industry and academia, making significant contributions in both these sectors. Since completing his Ph.D., he has published in more than 57 high impact refereed journal papers and has filed 10 patents. His current projects at NUI, Galway focus on synthesis of functional dendritic polymers, multifunctional nanocarriers for therapeutic biomolecular delivery, stimuli-responsive polymeric materials and hydrogels for tissue engineering. Dr. Wang is currently using these platform technologies for translation into wound healing applications such as treating wounds from individuals suffering from epidermolysis bullosa. Speaking after the awards ceremony, Dr. Wang expressed his sincere appreciation to SFI and International Advisory Panel for this honorable recognition. He said: 'This is a great honor and encouragement for me. I will continue to engage our multidisciplinary team at NFB and apply my expertise in polymer synthesis and functional biomaterials to tissue engineering and regenerative medicine, the ultimate aim being to improve the quality of life for patients. In this way, I have no doubt that I can return this honor, trust and expectation which this prestigious SFI award brings.' Dr. Stephen Simpson, Director, Life Sciences Directorate, SFI, said 'SFI would like to congratulate Dr. Wang on receiving this prize. The area of regenerative medicine is of great significance to Ireland and the prize is just one way in which individuals can be recognized and encouraged in developing excellence in their research.' -Ends-
2009-September-9th
From Irish Times
Skin disorder breakthrough on cards
AN NUI Galway (NUIG) scientist is developing a "smart" dressing which can apply gene therapy to heal rare skin condition epidermolysis bullosa (EB). Dr Wenxin Wang, NUIG lecturer in functional biomaterials, said the dressing will function "not only as a barrier" but also as a "local release device" for delivering a critical gene which is absent in people suffering from the condition.
http://www.irishtimes.com/newspaper/health/2009/0922/1224254981169.